Local News
Fannin County Office of Emergency Management to sponsor CERT class
May 24, 2017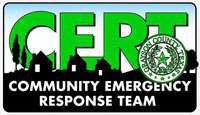 Fannin County, Texas -- The Fannin County Office of Emergency Management will sponsor the Twenty First Community Emergency Response Team (CERT) Class beginning Thursday, May 25, 2017. Over 200 citizens of Fannin County have completed this training. Volunteers who sign up for this course can walk into their first training class ready to make new friends, have fun, and learn how to better take care of themselves and their community.
Fannin County has a long tradition of helping each other in times of need. Helping others is "A standard act of social duty".
Over the next eight weeks, the CERT class will learn to fight small fires, basic first aid, search and rescue, terrorism, disaster psychology, and emergency communications. After training, volunteers join a cadre of others as an established source of information and assistance, always ready for the call to serve.
Training will be provided by the Fannin County Office of Emergency Management, Law Enforcement, Fire Service, and Emergency Medical Service (EMS) Instructors along with the Fannin County Amateur Radio Club, and others. Fannin County CERT training is open to any citizen of Fannin County and the surrounding area who is willing to commit to the training and have a desire to respond to emergency situations.
The official "Kick Off" for CERT Class 21 will be held Thursday, May 25, 2017, 6:30 PM at the Bonham Police Dept. 301 E. 5th St., Bonham. Classes will continue to meet each Thursday from 6:30 p.m. to 9:30 p.m. for eight consecutive weeks.
Pre-registration is requested by May 22 in order to have adequate supplies prepared, so come and bring a friend.
For more information or to pre-register contact; Darrell Brewer, Fannin County Emergency Management Coordinator at 903-227-4955 or e-mail: dbrewer@fanninco.net