School News
Bonham ISD Board of Trustees welcome new board members, elect officers
May 18, 2017
Bonham -- Bonham ISD Board of Trustees convened Tuesday, May 16, 2017, for a special meeting that opened with the canvassing of votes from the election May 6, 2017.
In the race for Bonham ISD Board of Trustees Place 7, challenger Jered Hudson defeated incumbent Chad Burnett, 369-125.
Running unopposed for Bonham ISD Board of Trustees Place 6, Randy Pendergrass received 356 votes.
Messrs. Hudson and Pendergrass were administered the Oath of Office by Debbie Horton.
The next action item called for the election of board officers for 2017-2018.
Chance Roberts was elected to serve as board president, replacing Lance Davis, who chose not to run in the most recent election cycle.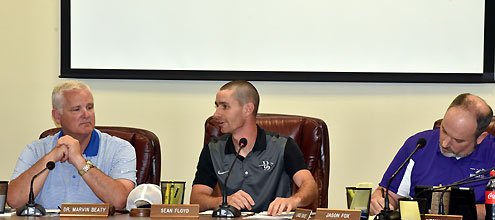 (L-R) Bonham ISD Superintendent Marvin Beaty, Bonham ISD Board of Trustees President Chance Roberts, and Bonham ISD Board Trustee Jason Fox
The board went to re-elect Sean Floyd as vice president and re-elect Dana Porter Roscoe to continue in her present capacity as secretary.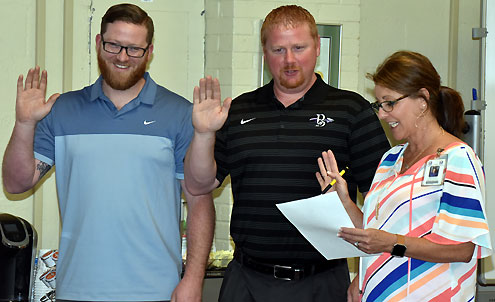 (L-R) Jered Hudson and Randy Pendergrass recite the Oath of Office being presented by Debbie Horton.