School News
Five Honey Grove High School seniors awarded $1,000 National Beta Club Scholarships
May 18, 2017
Honey Grove High School Beta members Amaleigh Bailey, Preston Clemons, Ashlee Foster, Emilee Hall, and Madison Henry were recently awarded $1,000 National Beta Club Scholarships by the National Beta Club.
They were five of 289 Beta members nationwide to be awarded scholarships. The most scholarships that a chapter can receive is five.
Honey Grove High School is the only club in the nation to be awarded five scholarships.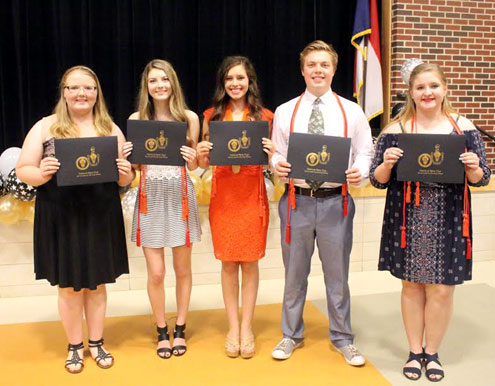 (L-R) Ashlee Foster, Madison Henry, Emilee Hall, Preston Clemons, and Amaleigh Bailey
Amaleigh plans to attend the University of Oklahoma, Preston is attending Texas A & M Commerce, Ashlee will be attending University of Texas at Arlington, and Emilee and Madison will be attending Texas State University.
These students exemplify the Beta ideas of academic achievement, leadership, character, and service.