Sports
Catfishing perfect for youngsters
Jul 8, 2017
To my way of thinking, the channel catfish might just be the perfect fish for introducing youngsters to the sport of fishing, especially during the summer months. A fishing trip last week on Lake Tawakoni with guide David Hanson, my daughter Ashley and two of her children proved this point to be spot on!
We had an absolute ball fishing with Hanson and rather than worrying about off loading the boat at a busy ramp while keeping an eye on the youngsters, making sure I had the necessary rod and reels and tackle that everyone aboard could actually fish with, running the boat, finding the fish and all the other things necessary for a successful fishing trip, all I had to do was give a few instructions and actually fish WITH my grandkids.
Hanson, a veteran catfish guide, had all those chores taken care of. He also had a couple of "holes" that he keeps baited with soured grain which insures when he ties up to one of his spots, there will be no "hoping" for a bite. Everyone was kept busy on this trip actually catching fish rather than looking for them.
I remembered my younger days when I often took the entire family fishing. Granted, we had plenty of fun but in retrospect, I always felt "under the gun" making sure everyone was safe and having a good time. It seemed in those days when a youngster got a little bored when the fish didn't bite as well as I hoped, I would get frustrated and try as I might to show everyone a great time, our fishing trips often turned into a pleasure cruise around the lake! These family events were often a bit stressful for me, to be quite honest! I did most of my serious fishing with our older son or one of my friends.
I know there are those that enjoy "doing it on your own" when it comes to fishing and that's perfectly fine but in truth, hiring the services of a good guide gives the parent or grandparent the ability to enjoy fishing "with" their youngsters. After all these outings are not all about highlighting the fishing skills of Dad or Gramps, it's about catching fish with young and often inexperienced kids that can benefit and learn a lot more with the "hands on " coaching.
There is absolutely nothing that will turn a kid off to the sport of fishing quicker than sitting in a boat for hours "waiting" to catch a fish. Youngsters need action and lots of it when being introduced to fishing. That's why species such as channel catfish or white bass are such great "starter" fish. Many anglers such as myself that were introduced to catfishing at an early age, never lose our love for catching and eating whiskerfish!
David Hanson had a two-part plan for our fishing trip last week, which we discussed the day before the outing.
"Luke, I've got two spots that I've been baiting on a regular basis and we should have no problem getting those kids right in the middle of some fast paced fishing," he told me. "It will be cloudy and cool during the first couple hours of the trip and we will fish around an isolated bois d'arc tree that has been as dependable as the Polar Star. When the sun gets out, we will move to another baited hole under the shaded bridge."
Sure enough, our first spot to fish was around the old tree that I remember fishing many times in the past with Hanson. It is situated on the bend of the submerged Sabine River and through the years, tons of catfish have been caught around it submerged fish attracting limbs. Hanson tied a 25-foot length of rope to the tree and pulled the boat away from the heavy cover.
He tied the stern of the boat to the top of what was left of another tree and we were positioned perfectly so that the kids wouldn't stay "hung up" all the time. We baited with a "no stink" new bait called Catfish Bubblegum that was developed by Lake Conroe catfish guide Bradley Doyle. I'd used this bait successfully once before while fishing some gravel pits and knew it would catch fish but was anxious to put it to work in an area I knew was loaded with catfish.
I baited one of the rods that my granddaughter would be fishing with; my intention was to let the bait hit bottom, crank it up a turn and coach her in the art of "setting the hook." The instant the Catfish Bubblegum hit bottom, a chunky 2-pound channel cat nailed it and the first fish of the morning was hooked. I passed the rod off and Anna experienced the thrill of fighting a fish on light tackle. She liked it! The smile on her face was worth a million dollars!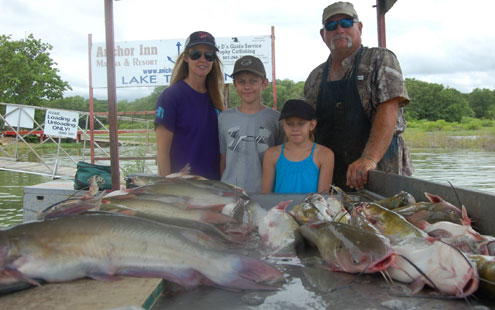 Fishing with kids is all about spending quality time actually "fishing" with them. The services of a good guide is money well spent when taking kids fishing. Lake Tawakoni catfish guide David Hanson is pictured with Luke's daughter Ashley and grandkids with the results of a few hours fishing. photo by Luke Clayton
I mostly served as deck hand on the trip helping bait, coach and remove fish for Anna, my grandson Conner and daughter. We hooked and missed fish after fish until the sun began to warm things up. Hanson suggested we move to under the bridge where he knew it would be much more comfortable and also expected the fishing to be just as good. Granted, it is tough leaving a spot where the fish are biting, but I've fished with Hanson long enough to know his plans usually pan out perfectly!
Once the boat was secured under the shady bridge, baits again were placed near bottom and, again, the bite was on! We fished and hour or so here and rounded out the morning. Back at the cleaning station, the fruits of our morning fishing trip were expertly turned into the makings of many tasty catfish dinners.
This was a fishing trip that I am sure we will all remember a long time. If you have some youngsters that you want to spend quality time with actually "fishing", consider spending a morning on the water with a good guide that not only understands how to catch fish but also how to make fishing fun for youngsters.
Lake Tawakoni catfish guide David Hanson can be reached at 903-268-7391.
Listen to "Outdoors with Luke Clayton and Friends" on radio stations from Nebraska to Texas on weekends or anytime online at www.catfishradio.com.