School News
Dino Academy returns to The Sherman Museum
Jul 19, 2017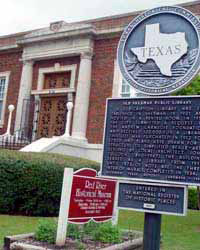 Sherman, Texas — The Sherman Museum is excited to announce that it will be conducting its annual Dino Academy children's workshop series on July 18th, 19th, and 20th. The workshops are designed to complement the museum's annual Dino Days exhibition.

This year's curriculum program will consist of two one and a half hour classes. Students can choose to participate in either a two day program on the 18th and 19th (half-day classes), or a full day program on the 20th.

Snacks will be provided during both days of the half-day program, and lunch will be provided on the full day program. The all-day program is recommended for older children.

All students will receive a colorful Dino Academy T-shirt and an Academy diploma upon completion of the program.

Program activities include:
• Hands-on guided tours of the current "Welcome to the Ice Age" exhibition
• Presentations teaching students about dinosaurs & the Ice Age
• Arts and Crafts sessions:
o Creating your own handprint fossil
o Sidewalk chalk drawings
• Showings of related videos or movies
• Games, and other interactive activities!

"This will be a great opportunity for kids to come in and get hands-on learning experience with fossils and prehistoric animals," stated Museum Director, Dan Steelman. The cost of the workshop is $45 per child. "We want each child to receive lots of individual attention, so we're limiting class size to ten students per session. I encourage parents to reserve class space for their children as early as possible."

Class reservations can be made by calling the museum at 903-893-7623.

About The Sherman Museum

The Sherman Museum is a non-profit 501(c) (3) educational organization devoted to collecting, preserving and interpreting objects of historical significance for visitors and residents of Grayson County and the Greater North Texas Region. The museum was previously known as The Red River Historical Museum prior to a name change in March 2011.

For more information about The Sherman Museum contact us at www.theshermanmuseum.org.