Religion
Main Street Presbyterian Church of Honey Grove dedicates Cross of the Presbyterian Church
Jun 29, 2017
Honey Grove, Texas -- Members of Main Street Presbyterian Church of Honey Grove gathered on Sunday, June 25, for its monthly contemporary service. Adding to the spirited worship experience was the Bolton family of musicians from Paris: Sam, his wife Reva, his daughter Kay, and his son Jeff. Besides the congregational hymns of "He's Got the Whole World in His Hands," "Awesome God," and "His Eye Is on the Sparrow," the Boltons played and sang six Christian songs, one of which was "Are you Praying Hard or Are You Hardly Praying?"
As part of the service, the congregation moved to the front lawn to dedicate the new metal Cross that is attached to the front of the building.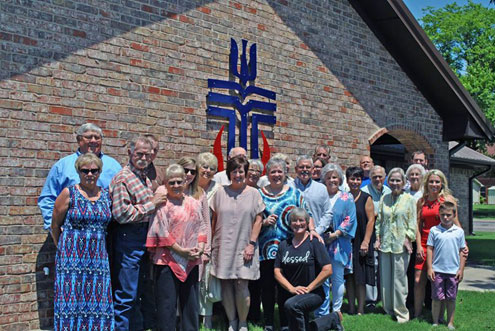 A year ago, Lanny Joe Burnett saw the need for something to be placed on the blank wall on the east side of the church. He contacted the Bonham High School Ag Department, under the leadership of Jake Brown and Emily Wallace, and asked if they would cut a metal Cross with their plasma cutter. Lanny provided the metal and a picture of the Presbyterian Cross, and the Bonhi Ag students constructed the five-piece metal Cross. Once finished, Lanny took the pieces to Cody Herndon Paint and Body Shop, where Cody Herndon painted the two-color Cross, free of charge.
Cindy Baker Burnett, pastor, pointed out the meaning of each piece. The Cross of the Presbyterian Church (U.S.A.)is a symbolic statement of the church's heritage, identity, and mission in contemporary form. Its power depends on both its simplicity and complexity, as well as its traditional and enduring qualities.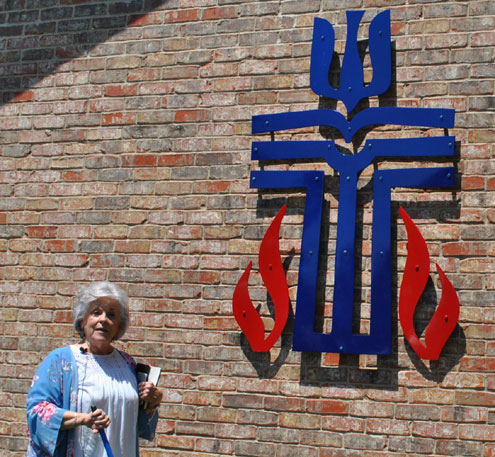 The basic symbols in the seal are the cross, Scripture, the dove, and flames. The dominant structural and theological element in the design is the cross — the universal and most ecumenical symbol of the Christian church. The cross represents the incarnate love of God in Jesus Christ and his passion and resurrection. Because of its association with Presbyterian history, the Celtic cross was chosen as a model for this contemporary rendering of the ancient symbol.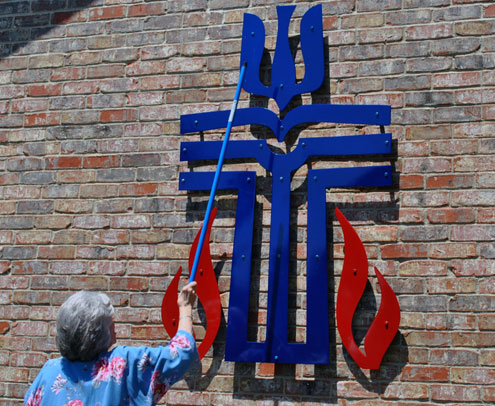 Jake Brown and his wife Julia were on hand for the dedication, and Cindy thanked Jake publicly for the excellent workmanship and the gesture of goodwill. She also expressed gratitude to Cody Herndon for the paint work and to Carl Peel for helping Lanny attach the Cross to the brick. Following the dedication, the congregation and guests enjoyed a covered-dish luncheon in the fellowship hall.
All are invited to drive by the building at 404 East Main Street in Honey Grove to see the beautiful Cross and to join the congregation each Sunday morning for Sunday school at 10:00 and worship at 11:00.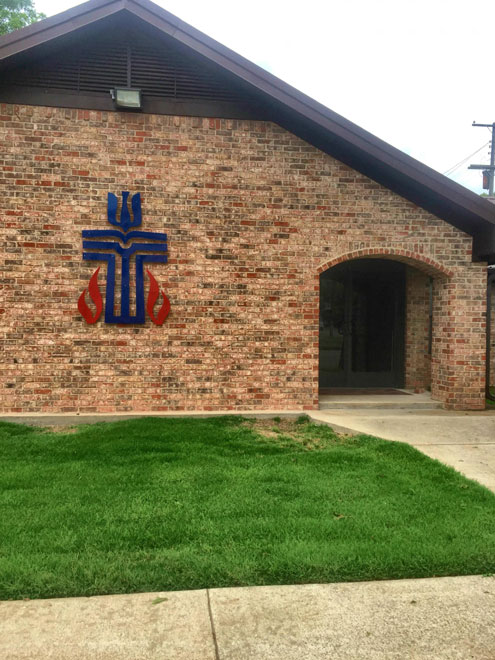 All photos courtesy of Mavis Duncan