Religion
A Night of Music & Worship with David Berryhill at 7th & Main Baptist Church July 30
Jul 30, 2017
Sunday, July 30 at 6:30 p.m.
Bonham -- David Berryhill grew up in Bonham, prior to moving to the East Texas area as a teen. He is an accomplished pianist and vocalist, having played concerts and recitals throughout the United States and accompanying choirs throughout Europe and Carnegie Hall. He is a graduate of East Texas Baptist University.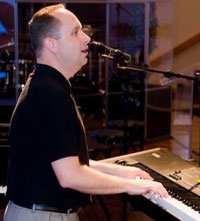 David's piano style was greatly influenced by Dino Kartsonakis as child, while singing was something that came later. He was a featured vocalist in college, playing the role of The Phantom of the Opera and has also been a regular performer on the Community Concert circuit in Texas. His primary passion is the local church, where he felt a call to ministry at Lake Lavon Baptist Camp when he was 12.

David became a Christian and was baptized by Pastor Randall Scott at the age of 8 at Seventh & Main. He is delighted and honored to have the opportunity to come "home" and bring a little joy and encouragement through his music. He is presently serving as Minister of Music at First Baptist Church in Kilgore, Texas.

David is blessed with a wonderful wife, Heather, and his 2 sons, Harrison and Hayden. David will be bringing a special guest and former BHS alumni, Kara Vermillion Borders to accompany him on a few selections. I hope you will come and join us for a wonderful night of music and worship!