Obituaries
Nora Kathryn Keeton
Jul 9, 2017
Bonham, Texas -- Funeral services for Nora Kathryn Keeton, 98, of the Tulip Community, Texas, near Ivanhoe, will be held on Tuesday, July 11, 2017 at 3:00 p.m. at Wise Funeral Home Chapel in Bonham, Texas. Officiating will be Rev. Phillip Mathis. Interment will follow at Willow Wild Cemetery in Bonham, Texas.
Kathryn passed away on July 8, 2017. She was born September 8, 1918 in the Tulip Community to Dennis Thomas Gibbs and Amy Lambert Gibbs. Kathryn attended school in the Tulip Community, and later graduated from Bonham High School. She greatly enjoyed traveling. Her biggest treasure, though, was her three sons and her family.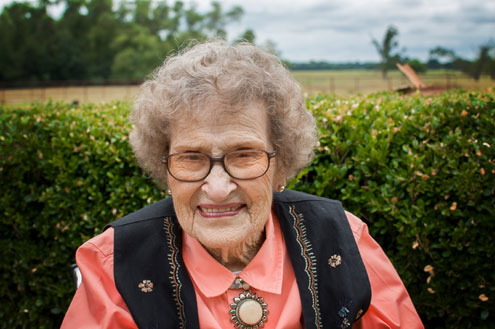 Kathryn Keeton was preceded in death by her husband of 50 years, Charles Leon Keeton in 1989; parents, Dennis Thomas Gibbs & Amy Lambert Gibbs; daughter-in-law, Donna Keeton; and foster brother, Bill Scrivner and wife Ruth.
Surviving are her sons, Tommy Keeton and wife Nan, Kerry Keeton, and Dennis Keeton and wife Wendy, all of the Tulip Community near Ivanhoe; grandchildren, Keenan Keeton, John Keeton, April Keeton Cope, David Keeton, Amy Keeton Hall, Kristie Keeton Kristufek, Gibbs Keeton; 2 step-grandchildren, Sheila Whited Roberts and Jamie Whited Brawner; and 23 great-grandchildren.
The family will receive friends at 2:00 p.m., one hour prior to the service, on Tuesday, July 11, 2017 at the Wise Funeral Home Chapel.
An online guestbook is available at www.wisefuneralhome.com.
Donations may be made to the Ivanhoe Baptist Church, 4063 N FM 273, Ivanhoe, TX 75447