Lifestyles
4th annual Bob Wills Fiddle Festival & Contest set for Oct. 13-15 in Greenville
Jul 19, 2017
4th annual Bob Wills Fiddle Festival & Contest
Friday-Sunday, Oct. 13-15, 2017

Downtown Greenville, Texas
Oct 13: Kenneth Threadgill Concert Series with Johnny Bush and Bruce Robison & Kelly Willis
Oct. 14: Clay Walker with Jason Roberts Band
Tickets: showtimeatthegma.com, Greenville Municipal Auditorium box office or 903.457.3126
Free events: Two-day all-ages fiddle contest, Saturday western-swing concert, Friday- and Saturday-night dances
Fiddle contest registration: bobwillsfiddlefest.com
Information: showtimeatthegma.com
Greenville, Texas -- Mark your calendars now for the fourth annual Bob Wills Fiddle Festival & Contest, slated for Friday, Oct. 13 through Sunday, Oct. 15 in downtown Greenville, Texas.
The event-packed weekend includes two ticketed shows at the beautifully renovated Greenville Municipal Auditorium: Oct. 13 at 8:00 p.m., the Kenneth Threadgill Concert Series presents co-headliners Johnny Bush, the Houston-born country singer and "Whiskey River" songwriter, and Austin's Americana royal couple, Bruce Robison & Kelly Willis, appearing with esteemed multi-instrumentalist Warren Hood; Oct. 14 at 7:30 p.m., multi-platinum-selling country artist Clay Walker headlines a bill also featuring Grammy-winning former Asleep at the Wheel fiddler Jason Roberts and his band performing with 89-year-old Texas Playboys vocalist Leon Rausch and 94-year-old saxophonist Billy Briggs. (We'll also be celebrating Rausch's 90th birthday that night.) The GMA is located at 2821 Washington St., Greenville, Texas.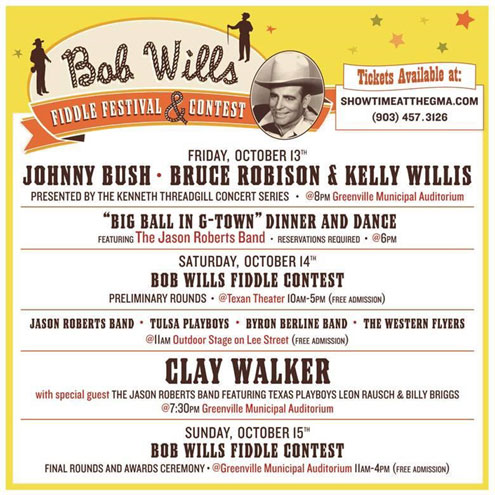 Tickets went on sale Monday, July 10; prices are $31 to $56 for the Oct. 13 show and $31 to $61 for the Oct. 14 show and will be available at showtimeatthegma.com, at the venue box office (8:00 a.m. to 5:00 p.m.) or by calling 903.457.3126.
This unique festival also includes the popular two-day, seven-division Bob Wills Fiddle Contest, with an all-ages category honoring its namesake that features winners from other contests containing officially sanctioned Bob Wills Divisions; the Friday pre-concert Big Ball in G-Town dinner-dance for sponsors and patrons, a ticketed event featuring the Jason Roberts Band, at 6 p.m.; free, open-to-the-public Friday and Saturday post-concert dances; and other free indoor and outdoor concerts, dances and family-friendly activities honoring legendary western-swing king Bob Wills and his famed Texas Playboys.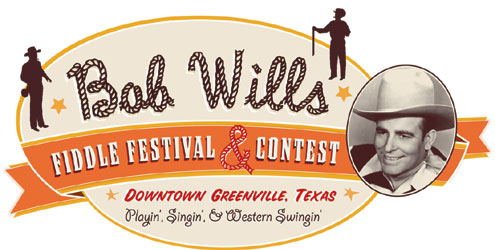 About the festival: The Bob Wills Fiddle Festival & Contest is Greenville, Texas' annual citywide celebration of the state's famed western-swing king and its music-loving culture. The October event features free day and night dances; an all-ages fiddle competition attracting world-class players that honors Wills' legacy by promoting his craft; and ticketed concerts held at the city's proudest jewel, the art-deco Greenville Municipal Auditorium, which unveiled a multimillion-dollar renovation in 2016. The festival attracts a range of country, Americana and western-swing acts such as Ray Benson & Asleep at the Wheel, the Hot Club of Cowtown, Dale Watson, Charley Pride, the Time Jumpers and Leon Rausch (the voice of Bob Wills & His Texas Playboys in the late 1950s and early '60s).
Links
bobwillsfiddlefest.com
facebook.com/bobwillsfiddlefest
twitter.com/DTGreenvilleTX