School News
Honey Grove High School Beta Club attends National Beta Convention
Jul 11, 2017
Forty-five members of the Honey Grove High School Beta Club attended the National Beta Club Convention in Orlando, Florida June 28 – July 3. The members heard inspirational speakers, saw amazing talents, and participated in numerous competitions.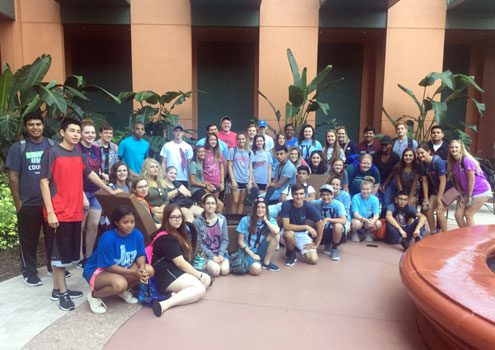 Preston Clemons won the national competition in recyclable art with his windmill made of various car parts.
Calvin Corbett won fourth place with his technology entry.
The scrapbook and character skit placed 8th in competition.
Aaron Nelson, State Vice-President ran for National Vice-President and did a good job representing the club. The club also presented their campaign skit to help promote Aaron for national office.
The club's Spotlight on Service also entered competition. Ashlee Foster entered the speech competition after winning at the state convention.
While in Orlando, the group visited Magic Kingdom, Epcot, Hollywood Studios, and Animal Kingdom. The group made lasting memories and look forward to more Beta activities in the fall.