Local News
Scouts complete mile swim at Camp Sid Richardson
Jul 12, 2017
Bonham -- Boy Scout Troop 52 had eight Scouts successfully complete the mile swim at Camp Sid Richardson this past June. These young men train each day at 6:00 a.m. to work up to swim the mile on the last day of camp.
This is an accomplishment which takes discipline, stamina, and determination. Most of the boys have earned this distinction more than once.
Will Lacy has earned the Mile Swim Award five times in his Scouting career and has encouraged others to accept this personal challenge.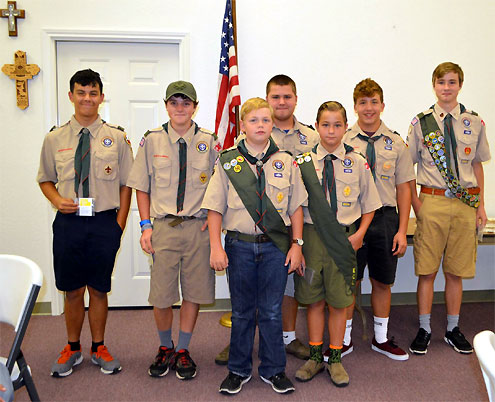 (L-R) - Lucas Lira, Landon Whiteside, Matthew Floyd, Worth Lacy, Wyatt Lacy, Aidan Straub and Will Lacy. Not pictured - Weston Whiteside