Local News
Fannin County Museum of History restores caboose
Jul 11, 2017
Bonham -- One of the best small-town historical museums in Texas will soon have a shiny red caboose on display. Fannin County Museum of History is in the process of restoring the 1966 caboose that is on permanent display on the north side of the depot in Bonham.
The M-K-T caboose was donated by owner John Davis of Denison, Texas and brought to Bonham in mid-February 2016. Fannin County Museum of History raised the $9,200 needed to move the caboose to Bonham.
On Tuesday, July 11, a crew began sandblasting as many as 13 coats of paint off of the 50-year-old, 50,000-pound caboose.
A three-person committee from Fannin County Museum of History, consisting of Glenn Taylor, Price Bradshaw and David Davis is spearheading the restoration project.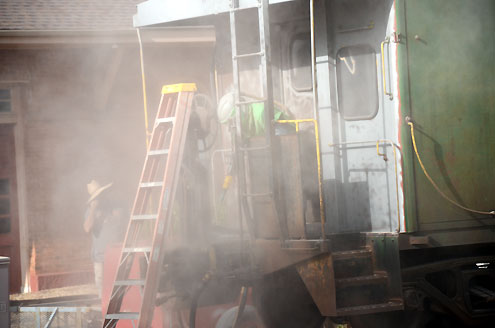 Sandblasting is expected to resume Wednesday morning. Custom Glass has offered to install all new glass for the windows and Pete Phillips is donating the expertise and materials to do touch-up fiberglass work.
The museum is still soliciting donations to furnish the primer, outside paint and inside paint for the caboose.
Mr. Phillips and his crew have volunteered to paint the caboose.
By the end of this week, volunteers hope to see a freshly painted red caboose in front of the historic depot. Floodlights will eventually be installed around the display.
Donations are also needed to restore the interior of the caboose.
The caboose will be used to educate the 460-500 school children from Lamar, Hunt, Collin, Grayson and Fannin counties that tour the museum each spring.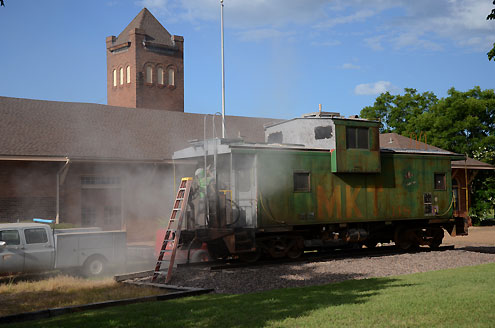 photos by Allen Rich