Obituaries
James Bacon Jones
Jul 12, 2017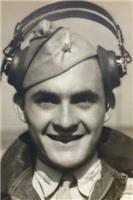 Lubbock, Texas -- James Bacon Jones was born March 8, 1921 to Theo. C. Jones and Edith B. Jones in Fannin County, near Bonham, Texas. He was one of 6 boys and 3 girls. He graduated from Bonham High School in 1939 and, in the fall, hitchhiked to Lubbock to enroll in Texas Tech. He transferred to West Texas State, enrolling in a Civil Air Patrol program associated with the college to learn to fly. As an added bonus, he met Lila Pearl Aven, the love of his life.

Services will be held on Thursday, July 13 at 1:00 p.m. in the chapel of Resthaven Funeral Home Lubbock, Texas, with burial following in Resthaven Cemetery.

One week after Pearl Harbor, he enlisted in the Army in San Antonio and applied to Flight Training School. On the day of his graduation, Oct. 9, 1942, he and Lila Pearl (Buddie) were married and remained so for 72 years until her death in 2015. Because of a shortage of aircraft, he was loaned to Braniff Airways and sent to Brownsville, Texas, flying commercial passenger routes to Central America in DC-3's, the civilian version of the C-47's he would soon be flying.

On March 3, 1943, he boarded the British aircraft carrier Stalker bound for Casablanca where he was assigned to the Africa Middle East Wing of the Air Transport Command, headquartered in Accra, Gold Coast, Africa.

After 14 months, he returned to the U.S. to become an instrument instructor pilot at Rosencrans Field near St. Joseph, Mo. until his tour ended in Sept,1945.

After the war, he went to watch-making school and became a watch-maker, jeweler and hand-engraver. He enjoyed a long career in the retail and wholesale jewelry industries, retiring when he was 82 years old. He died on July 8, 2017 in Lubbock, Texas at the age of 96. His was preceded in death by his wife, Buddie, and all of his brothers and sisters. He is survived by his children, Spike (Dancy) Jones, Susan ( Mike) Millsap, and Dana ( Dean) Roberts as well as grandchildren, great grandchildren, cousins, nieces, nephews, great-nieces and great-nephews.