School News
Students, educators & activists to gather at SMU July 15
Jul 15, 2017
DALLAS (SMU) – Three hundred students, educators and community-outreach leaders will gather at SMU on Saturday, July 15, for the first "Human Rights Youth Summit" set for 10:00 a.m. to 3:00 p.m. in the Martha Proctor Mack Ballroom of Umphrey Lee Center, 3300 Dyer St.
"High schoolers shouldn't have to wait until college to begin learning about human rights, and teachers shouldn't be afraid to discuss issues young people care about," says Rick Halperin, director of SMU's Embrey Human Rights Program, co-sponsoring the free event with the World Affairs Council of Dallas/Fort Worth.
High school students are encouraged to sign up for the "Human Rights Youth Summit" (which will include lunch) via https://www.eventbrite.com/e/2017-human-rights-youth-summit-tickets-34043612361 while seating is available. Registration for community educators and leaders is now closed.
The summit will offer a variety of workshops to help a diverse group of young people and educators better incorporate human rights-related subject matter into their classes and student networks – while also connecting them with leaders from community-outreach organizations.
Recent high school graduate Lamisa Mustafa, instrumental in developing the summit, joins SMU this fall as a human rights and international studies major. As president of Newman Smith High School's Human Rights Forum, Lamisa helped dozens of students regularly explore complex humanitarian and social justice issues ranging from the Syrian refugee crisis to gender inequality.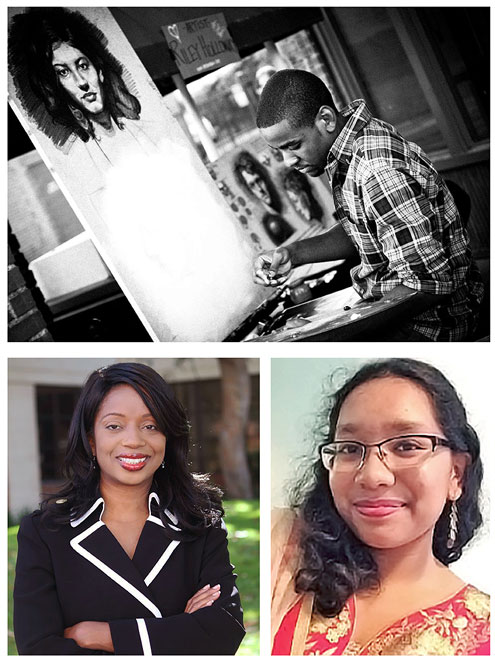 The Arlington native says her interest in human rights education was galvanized by a talk given at her school by SMU's Halperin. Shortly afterward, she and other high school forum members chose to visit the SMU campus to learn more about human rights careers – and ultimately attended last year's "Human Rights Dallas" event. The venue was packed, Lamisa recalls, but they noticed they were the only high school-age people attending. "That's what got us thinking that something like this needed to be done, and when we learned the Embrey team was working on the same goal, the idea for this event was born."
"People my age are more likely to become interested in human rights issues when directly confronted by them," Lamisa says. For example, after a Syrian refugee spoke at one of their forums, a number of her fellow students wanted to volunteer to help the region's many refugees and immigrants. That subject matter is particularly personal for Lamisa, whose parents, now U.S. citizens, emigrated to America from Bangladesh, where several family members were prominent human rights and legal champions.
Lisa Walters-Vargas, outreach coordinator for the Embrey Human Rights Program, believes the summit will be a "great first step in helping students and teachers identify and engage in meaningful issues – and also help young people network with organizations that really need their help, from New Friends New Life to the North Texas Dream Team."
After the recent news that Dallas County has been designated only the second "Human Rights County" in the nation, "it's fitting that the summit will take place at SMU, which is one of only seven U.S. universities – and the only one in the South – to offer an undergraduate degree in human rights," says Walters-Vargas, a 2014 SMU human rights program alumna.
The event will include multimedia motivators Journeyman Ink and dynamic painter Riley Holloway, who will begin and finish a compelling work of art during the summit.
Also featured will be keynote speaker Candice Bledsoe, an SMU alumna who serves as a faculty member for the Annette Caldwell Simmons School of Education & Human Development. Bledsoe teaches such courses as "The Struggle for Global Justice: Global and Transnational Feminism" and "Education, Equality and Human Rights: Issues of Gender, Race, Sexuality, Disability and Social Class." (Watch her powerful TEDxSMU talk here.)
"James Baldwin once said, 'Not everything that is faced can be changed; but nothing can be changed until it is faced'," Bledsoe says. "With that in mind, the '2017 Human Rights Youth Summit' should encourage all of us to face the issues that most need to be faced – through innovative, empowering ways."
For more details, contact smu.edu/humanrights, humanrights@smu.edu or 214-768-8347.
SMU is the nationally ranked global research university in the dynamic city of Dallas. SMU's alumni, faculty and 11,000 students in seven degree-granting schools demonstrate an entrepreneurial spirit as they lead change in their professions, communities and the world.