Sports
Bonham 12U Boys District Champs and take Runner Up at State
Jul 13, 2017
Bonham -- The 2017 Bonham 12U Boys All-Stars team took top spot at this year's Dixie Youth Baseball District Championship tournament held in Bonham. They beat out the Van Alstyne 11U & 12U teams, as well as Justin and Anna. This past weekend they headed to the Regional State tournament in Texarkana, where the captured the Runner-Up title. Eight teams came to battle and only two, Atlanta and Bonham, were left for the championship game.
Besides securing the 2017 Ozone Division 1 Runner Up title, Bonham also received the Division 1 Sportsmanship Award. Ashton Butner brought home 2 game balls after hitting a 2-run homerun and a grand slam during the tournament. Bonham can be proud of these boys and their coaches, who represented our town well!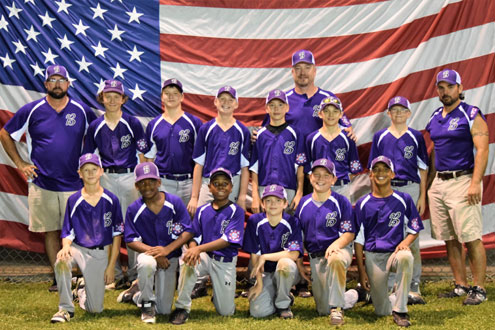 Top (L-R) Coach Nelson Aaron, Ashton Butner, Jack Porter, Hunter Haglund, Caleb Cravin, Coach Roger Fortune, Matthew Fortune, Dylan Frazier, Head Coach Brent Yarborough. Bottom (L-R) Jacob Aaron, Jeren Ross, Randy Slaughter, Luke Spiller, Darian Yarborough, Cameron Bush. Not pictured: Jack Abbott, Austyn Herrington
The team, coaches and parents would like to thank the following sponsors for helping them get to the Regional State tournament: Wise Funeral Home, Roma Italian Restaurant, Dr. Matt Koger, Dr. Robert Deuell, Baylor Scott & White PCA Greenville, The Glaser Family, Kevin & Ilonka Killingsworth, Trina Sanders Coldiron, and Jason & Kelly Royce.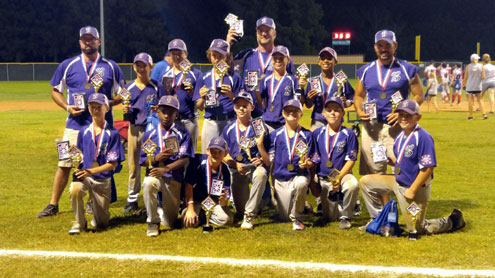 The team hoists their trophies after the last game.