Lifestyles
It's Quilt Hop time
Jul 29, 2017
Bonham -- Friday, July 28 and Saturday, July 29, visitors to the Quilt Hop will hop to 10 different locations to see displays of over 300 quilts and quilted items. Included in the Hop are the Sam Rayburn House Museum, the Bonham Civic Center (Armory), Sam Rayburn Library, Creative Art Center, City of Bonham Visitor Center, Fannin County Museum of History, Fannin County Historical Commission, Bonham Public Library, Bonham Senior Center, and Saint Mark's Episcopal Church, Honey Grove.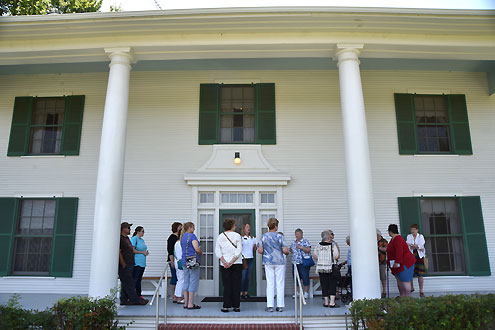 Anne Rupert prepares to give a tour of Sam Rayburn House during Quilt Hop last year.
We have a few changes to the event this year. Saint Mark's church in Honey will open at 9:00 a.m. on both Friday and Saturday. The rest of the event attractions will open on Friday at 1:00 p.m. The reason for this opening time for all the Bonham Quilt Hop venues is that the Senior Center must serve food on Friday. Quilts and food do not mix. So we must allow the Senior Center time to serve food and clean up before they can finish set-up. The Quilt Hop Committee suggests that if you would like to tour Saint Mark's church early on Friday, that you spend time looking at the Barn Quilt Trail. Honey Grove has a number of Barn Quilts on buildings in Honey Grove. You can then follow the trail to Bonham and visit the remaining quilt venues. A change has been added to the Barn Quilt Trail. We will mark the places that have Barn Quilts with red flags in front of the locations. An addition this year Ester's Country Kitchen will have a Food Truck located at the armory both Friday and Saturday. This will allow us to keep all the venues open continually with no lunch break this year.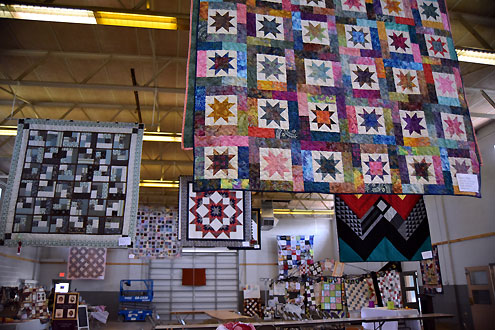 Quilts on display last year in Bonham Civic Center.
Quilt Hop hours will be Friday, July 28, 1:00 p.m.- 4:30 p.m. in Bonham. On Friday, Honey Grove will open at 9:00 a.m. and close at 4:30 p.m. Friday, there will be a reception at the Sam Rayburn Library from 5:00 p.m. until 6:30 p.m.
Saturday, all venues will open at 9:00 and will close at 4:00 p.m. Join us for all the "Hopping Fun" July 28th and 29th.