Front Page
Ellis Paul at Harmony House Concerts Aug. 13
Aug 13, 2017
Fannin County, Texas -- On Sunday, August 13, 2017, 4:00-6:00 p.m., the sublime music and songs of Ellis Paul will fill the air and touch the hearts of those who make reservations for his show at Harmony House Concerts. Paul last played here in July 2012 on his way to play for the 100th Anniversary of Woody Guthrie's Birthday at Woody Fest in Okemah, OK, Woody's birthplace. Our "little house on the prairie" was packed and filled with his one-of-a-kind voice singing both his originals and some of Woody's compositions. We invite you to join us once again for this remarkable opportunity, not only to listen to Paul's songs, but also also to experience his authenticity and intimate audience appeal.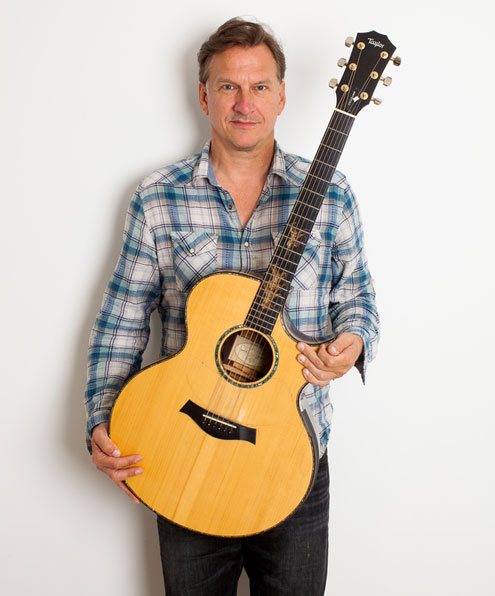 Reservations for this concert are $25 per person with all proceeds going to the aritist. To prepay, please send checks — made out to Ellis Paul — to Faye Wedell; P.O. Box 812; Bonham, TX 75418, to be received by Wednesday, August 9. Refunds will also be made to anyone cancelling by that same date. You may pay at the door by cash or check. However, if you make a reservation, please be respectful and show up or cancel in a timely way. Seating is limited to about "50-ish", and there will likely be a waiting list for this show.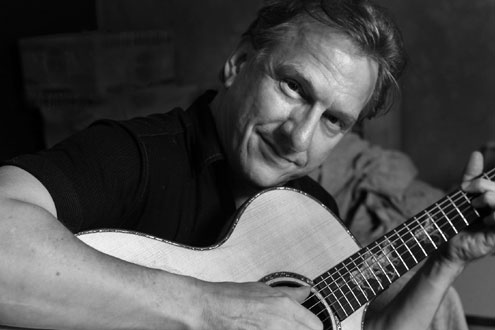 On a personal note, we became familiar with Paul's music by attending Woody Fest almost annually. [Side note: Artists who play at this renowned event honoring Woody Guthrie's birthday in July each year receive no compensation. They do it out of the love for this epic singer-songwriter.] After, hearing one of his headliner concerts onstage, I was sold heart and soul to this gifted artist and kind man. Each year, when I'd get in line to have his new CDs autographed, I'd mention our Harmony House Concert venue to him. He would tell me to contact his agent. When that produced no results, he finally put me in touch with his manager in 2012. Within a week, we had him booked. Last year, we ran into Paul and another singer-songwriter in a little coffee shop prior to his headliner show. He remembered us and Harmony House and expressed a desire to return. Then, he and Don Conoscenti excused themselves because they wanted to go visit Woody's gravesite and bring back a few rocks to put under the stage, so Woody's spirit would be embodied in their show that night. After months of communicating with first one agent and then another, we have finally made it happen — Ellis Paul returns!
To learn more about Ellis, visit his website, www.ellispaul.com. You can watch YouTube videos and hear songs from his latest album (he's made more than nineteen now) and read about his fascinating journeys. More below in a brief 'bio'!
Paul will play two 45-minute sets with a 30-minute intermission for guests to enjoy gabbing, grazing off the munchies & filling bottomless cups of coffee, tea, or punches provided by us, your hosts, Faye & Scott! Of course, this is an excellent time to meet Paul and purchase one or more of his fantastic CDs. There will be a basket on the breakfast room table for optional $1 cash donations to help defray our costs.
To learn more about Harmony House Concerts and us, visit www.WildscapeAcres.com (click on the Harmony House link for more info; click on the concert date when hot to view a .pdf flier about this event, which you can print or send to friends who might want to attend). Let's just say that we will do whatever it takes to make you feel at home. Some folks feel like they've gone back in time to their grandparents' home, since ours is a reclaimed vintage home moved into these natural surroundings.
After the show, there will be an old-fashioned Potluck Picnic on the grounds for those who opt to stay. Please indicate your intent when making reservations. I (Faye) will try to balance the menu, so that we don't have 20 varieties of potato salad, so if you know what you'd like to contribute to the table, please let me know. If folks want to stay around after dinner and circle up inside for a Song Fest, we welcome anyone to participate — either by bringing your own instrument of choice, your voice, or just listening ears.
Brief Bio of Ellis Paul:
It's hard to be brief about Ellis Paul, because there's just so much to say — so many accolades and testimonials about his contributions to the music world and to this world, in general, as he sees it, feels it, senses it, and experiences it before he puts it into a story or a song. Here are just a few highlights I picked out from his bio online:


"Despite his success and sense of history, Mr. Paul remains an artist with his eye on the future and an interest in discovering the transformative potential in his music." ~The New York Times