School News
Keturi Beatty welcomed as new Associate Vice President for Advancement
Jul 14, 2017
Commerce, Texas — Texas A&M University-Commerce announced the selection of Keturi Beatty as its new Associate Vice President for Advancement. In this role, she will lead the university's main fundraising and alumni engagement efforts. Beatty brings more than a decade of experience in institutional advancement, having worked with thousands of volunteers and boards to advance a variety of fundraising and giving programs.
A&M Commerce Interim Vice President for Advancement, Wyman Williams, sees the addition of Beatty to his leadership team as a significant and positive change for the university and the local community. "Keturi brings significant experience and professional skills to our fundraising efforts that will prove to enhance our students' opportunities in reaching their educational goals," he stated.
Beatty previously served as the Senior Director of Development for the College of Education at the University of North Texas. In this role, she redesigned major gift solicitation strategy, aligned the strategic priorities of the university's College Development Board, implemented a peer solicitation program, and integrated communications, alumni, marketing, events and strategies to support college and campaign goals. Prior to her time at UNT, Beatty also held leadership positions with The Hockaday School and the Lamplighter School.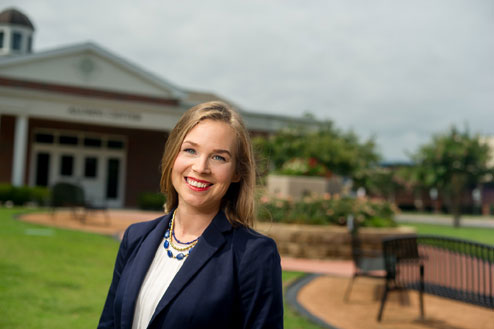 Keturi looks forward to making the philanthropic and personal connections that she knows can change the lives of students. "It's an honor working with altruistic individuals and translating their passions into philanthropy. I get to make a difference every day, in a profound way."
University president Ray Keck heralded Beatty's decision to join the advancement leadership team at A&M Commerce, stating, "We are so delighted to have attracted Keturi and her family to the University and to the city. She brings an experience and understanding of institutional advancement which should greatly enhance engagement by our alumni and our citizens."
Beatty currently serves on the District IV Board of Directors for the Council for Advancement and Support of Education (CASE), the Board of Governors for St. Timothy's School in Stevenson Maryland, and the Advisory Board at Oak Hill Academy in Dallas, TX.
Keturi and husband, Blair will move from Dallas to Commerce with their two daughters, Airlie (4) and Priscilla (16 months), and the family cat, Chomsky.
About Texas A&M University-Commerce: Founded in 1889, Texas A&M University-Commerce is a member of The Texas A&M University System. Located in Northeast Texas, A&M-Commerce is home to more than 12,000 students, four academic colleges, a thriving graduate school, and more than 140 degree programs. As the region's focal point of higher education, A&M-Commerce offers students facilities ranging from the world-class Keith D. McFarland Science Building and University Planetarium to the Sam Rayburn Student Center, to a fully equipped recreational facility and music hall. The university also has convenient locations in Corsicana, downtown Dallas, Midlothian, McKinney, Mesquite and Rockwall.
About the A&M System: The Texas A&M University System is one of the largest systems of higher education in the nation, with a budget of $4.2 billion. Through a statewide network of 11 universities and seven state agencies, the Texas A&M System educates more than 150,000 students and makes more than 22 million additional educational contacts through service and outreach programs each year. System-wide, research and development expenditures exceeded $946 million in FY 2015 and helped drive the state's economy.