Local News
Fannin Central Appraisal District accepting applications/resumes for Staff Appraiser
Aug 9, 2017
Fannin Central Appraisal District is accepting applications/resumes for the position of Staff Appraiser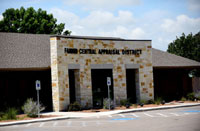 The ideal candidate must have excellent verbal and written communications skills, be a self-starter and take initiative on projects, be detail oriented, possess the ability to work under pressure, must present a professional appearance, must possess computer skills and demonstrate proficiency in Microsoft Office suite of software, must demonstrate ability to read and interpret information in the Property Tax Code, must perform calculations, must be able to adapt to periods of increased workloads or production requirements, must be a team player, will be required to travel.

Minimum Requirements: Must be a Texas resident, have a valid Texas Driver License, possess a High School Diploma or GED, college degree preferred. Person selected must register with Texas Department of Licensing and Regulation (TDLR), agree to and pass a criminal background check.

Background or experience in ad valorem taxation, mass appraisal techniques, appraisal CAMA systems, deeds and exemptions, working with the public or other appraisal district experience is helpful. Bilingual is a plus.

Salary is commensurate with qualifications. Fannin Central Appraisal District is an Equal Opportunity Employer.

Interested persons may pick up an application at the Appraisal District office located at 831 W. State Highway 56, Bonham, TX 75479. Please submit resume/application to Fannin Central Appraisal District Attn: Human Resource Manager at the address listed above. Applications/resumes must be received by noon July 28, 2017.