Lifestyles
Veterans meeting at Honey Grove library
Jul 20, 2017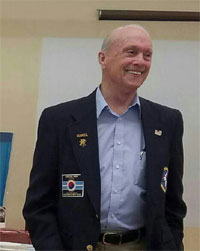 Honey Grove -- On Thursday, July 20 at 5:30, Louis E. Holmes, a Korean War veteran, will be presenting the message, "The Soldier and the Cross." Mr. Holmes now makes his home in Bonham, but for 42 years, he pastored at a church in Grapevine, Texas. Also, he has preached in many of our 50 states and in over 50 different churches in Texas and also, foreign countries.

During his presentation, he will be use a M-1 rifle, the kind he used in Korea, a bayonet and hand grenade as an object lesson and explain why you need to learn how to use them in the service. With bayonet on rifle thrusted into a board, the rifle will be standing straight up. He will place a steel helmet on the butt of the rifle with a pair of combat boots beside it. This will symbolize the place of a fallen soldier. Then Mr. Holmes will sit up a cross with a crown of thorns to symbolize the death of Christ. Side by side, he will share the parallel between the soldier and Jesus Christ.

It is a very moving and impressive presentation. Taps will be played at the close of the service.

Make plans to attend this meeting at the library Thursday, July 20.