Lifestyles
Café Murder by Sherman Community Players closes Aug. 13
Aug 13, 2017
August 3-13 - Summer Fundraising Benefit
Sherman -- Join Sherman Community Players this August for their annual Dinner Theater benefit which helps to raise the final year funds for the third oldest Community Theater in the great state of Texas. Each summer SCP hosts the event in the Honey McGee Playhouse to help bring in the final numbers for their fiscal year.
This year is sure to be quite the event; Café Murder by Nathan Hartswick is an interactive murder mystery, which involves the audience in on the "who done it?" Running on the weekends until August 13, this funny story is sure to be quiet the crowd pleaser. Along with the show comes a three-course meal catered by Feast on This; along with inspired live music arranged by Dr. Fred Freeman and his trio of musicians and singers.
Reservations can be made by calling 903-893-7652, ticket prices begin $45. Sponsor tables helping to support the event are also still available.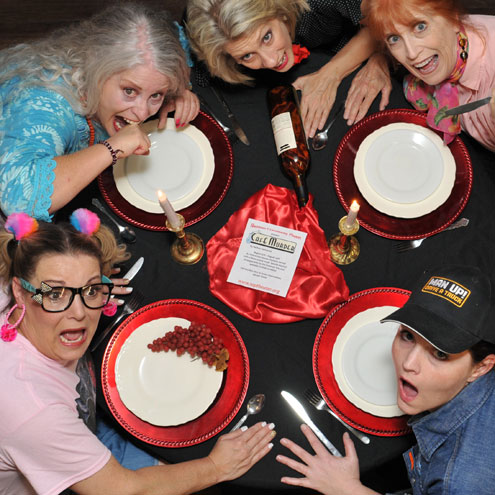 Top left to bottom right: Nancy Cassady, Jessica Adams, Lisa Avila, Jennifer Becherer, Lisa Martin. photo credit: John Spears
The Sherman Community began in 1926, then known as the Sherman Little theater. In 1954 the players were so well established, the Finley Theater was built for the troupe and currently the community theater produces five main stage productions, as well as its children's division, Theatricks, which produces three; in grand total SCP produces nine fully realized productions in a calendar season, not including workshops, extra projects, etc.