Religion
Local Unitarian Universalists host National Field Staff on Sunday
Jul 24, 2017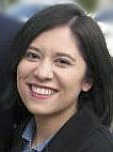 Denison -- This Sunday the lay-led congregation at Red River Unitarian Universalist Church will welcome Natalie Briscoe, Congregational Life Field Staff for the Southern Region of the Unitarian Universalist Association who is traveling to Denison to address the congregation at their 11:15 a.m. Morning Assembly.

Ms. Briscoe will discuss why Unitarian Universalism is often described as a faith of covenant rather than creed in a service that lifts up the shared values of love and justice which has been at the bedrock of covenantal religion. Unitarian Universalism is grounded, not in a Mother Church or a Diocese, but in the local congregation. Each congregation is absolutely autonomous and when individuals joins a Unitarian Universalist congregation, they commit themselves to walking in covenant with one another. When a local congregations choose to join the Unitarian Universalist Association, that congregation chooses to walk in covenant with other congregations.

Red River Unitarian Universalist Church was founded in 1997 and joined the Unitarian Universalist Association as a member congregation in 2003. It celebrates its connections with other congregations to help transform the world.

Briscoe received her bachelor's degree in psychology from the University of Texas at Austin in 2000 where her focus was on learning and perception across the lifespan. She received her master's degree in counseling and human development from the University of North Texas in 2002. She has amassed over a decade as a Religious Educator, serving first as a Children's Program Coordinator and then as a Director of Religious Education for two churches, one in North Texas and one in Seattle, Washington.

In 2011 Natalie received both the Ruth Clark Award for service to Unitarian Universalism from the North Texas Association of UU Societies and the Norma Veridan Award for outstanding contributions to Religious Education. She has served on the Congregational Life Field Staff for the Southern Region of the Unitarian Universalist Association since 2013, where she primarily serves congregations in Texas, Mexico, and The Philippines. Natalie is married to her best friend Sean Briscoe, and the couple have two children, Ian and Ayla.

The Adult Forum, meeting at 10:00 a.m., will continue an exploration of the Great Course Series Native Peoples of North America. Sunday mornings at Red River begin, for those who wish, with an hour of quiet meditation in the Chapel starting at 9:00 a.m.

Red River Unitarian Universalist church, a "Love Beyond Belief" congregation, is at 515 North Burnett Ave in Denison and welcome newcomers and visitors who may be curious why congregations gather in covenant rather than creed.