Lifestyles
McKinney Repertory Theatre presents Caught in the Villain's Web by Herbert Swayne
Aug 12, 2017
McKinney, Texas -- The villain winds his web of deceit once again in McKinney Repertory Theatre's annual melodrama: Caught in the Villain's Web (or More Sinned Against Than Sinning) by Herbert Swayne. In a "Far out" twist, Director Jessi Williams has set the show in the fab 1960s – a cool move in any language.
Set in the groovy 1960s, Nurse Felicity Fair, the persecuted heroine, is sent to the Larkfield mansion to attend to the hard-hearted Regina Larkfield, who is pretending to be ill to force her son Malvern, the hero, to marry the scheming Nella Hargrave. Malvern takes one look at Felicity and falls in love!
Cyril Bothingwell, steeped in villainy, schemes to make Felicity his wife. Other colorful characters include a daughter with a heart of gold, a butler, a French maid, a doctor, a matron who enjoys bad health – all tied up in the same deceitful web – and we almost forgot to mention amnesia!
Popcorn will be available for throwing, and organists Benjamin Kolodziej and Robert Whiteman will provide sound cues for booing the villains, cheering the heroes and swooning for the heroine.
Produced by Dale Gutt, the cast includes Ruby Pullum as Felicity Fair, Kyle Januszewski as Malvern, Kasey Bush as Regina, Brandon Carnes as Cyril, Cora Belle Chastain as Lona Larkfield, Chris Biggs as Brockton, Sara Tamimi as Denise, Jenny Maique as both Geraldine and Nella Hargrave and Dale Gutt as Dr. Belch.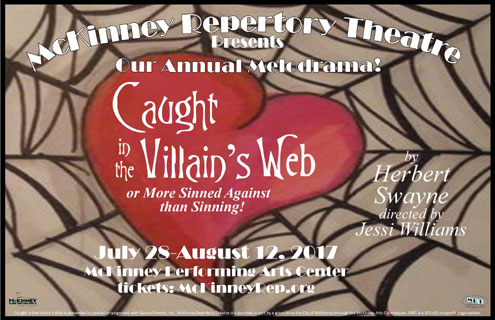 The show opened July 28 at 8:00 p.m. and continues for three weekends at the McKinney Performing Arts Center. Tickets are $18 with discounts for students and seniors and are available at 214-544-4630 or at www.McKinneyRep.org. Visit McKinneyRep.org for show dates and times.
For more information, contact Kim Farrar at 214-405-1397.