Local News
Willow Wild Cemetery launches $10,000 fundraiser
Aug 13, 2017
Bonham -- The Willow Wild Cemetery Association launched its annual "Pay the Mower" fundraising campaign earlier this week with a goal to raise $10,000 in donations by Labor Day. Keeping the cemetery freshly mowed during the spring and summer months is the largest single item on Willow Wild's annual budget.
Located on West Seventh Street in Bonham, Texas, Willow Wild was established in 1878 and designated an Historical Texas Cemetery in June, 2012. Maintenance and operations are provided solely by Willow Wild Cemetery Association, Inc, which was incorporated in the fall of 2012 as a nonprofit, tax-exempt organization under Section 501(c)(13) of the IRS Code as well as a Texas non-profit organization.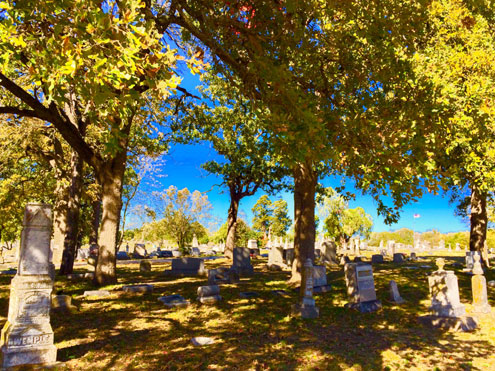 Indigenous red oaks tower over the original 40 acres near the entrance.
Its mission, which is a continuation of the same ethos of cooperation and hard work that enabled Bonham's earliest residents to survive and flourish, is to provide leadership, representative of those it serves, for the preservation and maintenance of Willow Wild. Many of Bonham's original settlers and prominent citizens are interred at Willow Wild, including Tom Bean, Col. Robert Taylor and Speaker of the House Sam Rayburn.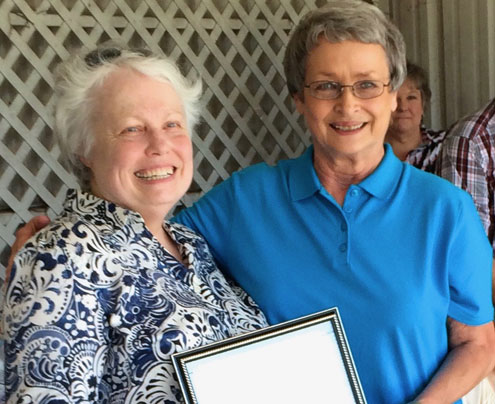 Carolyn Moore, right, was named volunteer of the year in 2015 and presented a commemorative plaque by association president, Charlotte Watson, left.
The original 40 acres along Powder Creek were purchased with funds donated by John Simpson, a prominent figure in Bonham's past whose burial site is near the front gate. Today the cemetery stretches across 90 acres of rolling blackland prairie, home to almost 10,000 graves. In essence, it has become a park-like setting, a respite in the middle of a burgeoning city. During the Civil War, this plot of land stood use as a military outpost. The scant forces positioned here were tasked with patrolling 600 miles along the Red River and the surrounding frontier.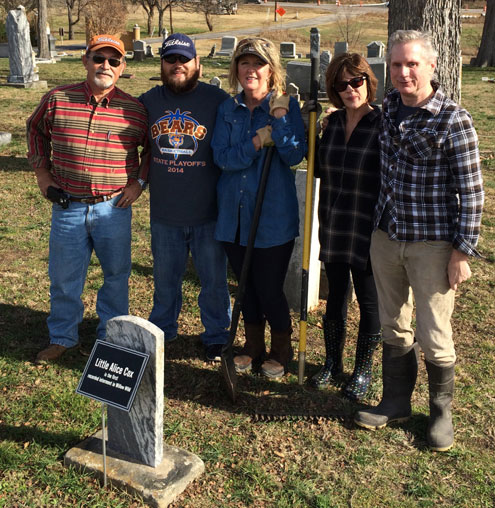 A team of volunteers installed a plaque at Willow Wild's first interment, Alice Cox, who died in 1878 at age 4. Left to right, Jim Adams, Mason Adams, Becki Beaver Norment, Jill Dale Temple and Gary Porter.
Unlike many other cemeteries, Willow Wild does not at this time have a trust fund or investments to cover routine costs, and many of the descendants of the people buried there are long since gone. Thus, it relies on the community for upkeep and maintenance. Your tax deductible contributions to the Association are much needed and appreciated. Donations may be mailed to Willow Wild Cemetery Association, P. O. Box 159, Bonham, Texas 75418. Or donate digitally at www.WillowWild.org.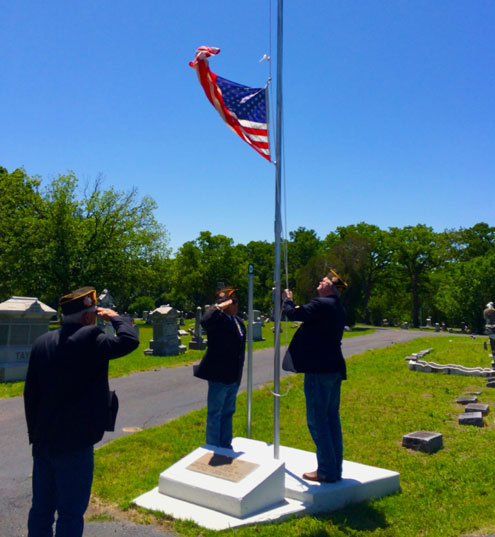 The veterans memorial flagstaff was re-dedicated by local members of the VFW at a ceremony in 2015.