Lifestyles
CCMGA 14th Annual Bulb Pre-Sale runs through Sept. 9
Sep 7, 2017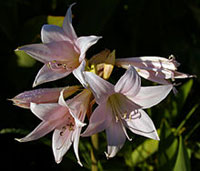 McKinney -- Mark your calendars! The pre-sale for bulbs for the 14th Annual Bulb and Perennial Mart is here! The Collin County Master Gardeners Association will be offering heirloom and naturalizing bulbs by pre-order only with an online sale that will begin August 1 and run through September 9, 2017. These easy-to-grow bulbs have been researched and are proven to be suitable for our climate and soil. Many of these hard to find bulbs will not be available for purchase at local nurseries. Pre-ordered bulbs will be available for pick-up at the Bulb and Perennial Mart on Saturday, October 14, 2017 at Myers Park and Event Center in McKinney, Texas.

During the Bulb and Perennial Mart CCMGA will be selling additional selections of perennials and more varieties of spring, summer, and fall blooming bulbs. The perennials offered at the sale have been proven to be winners in the International Award winning Research and Demonstration gardens at Myers Park. These Texas tough plants will add color and beauty to the garden throughout the year.

This fall fundraiser benefits CCMGA community outreach and educational programs in Collin County.

Information about the Bulb and Perennial Mart, a color brochure with descriptions of bulbs available for the pre-sale and an order form will be available August 1, 2017 for downloading at the CCMGA Website: ccmgatx.org.

Visa and MasterCard accepted for online orders only.

Please call the Collin County Master Gardeners Association at 972-548-4232 for questions and additional information.