Lifestyles
Chrystal Opry House welcomes New County Line on Aug. 5
Aug 5, 2017
Tom Bean, Texas -- Saturday, August 5, Chrystal Opry House will welcome New County Line to its stage. This is a local band that you will enjoy including Charles Woolly, mandolin, and harmony, Dale Anderson, vocals and guitar, Bob Carlisle, harmony and bass, Brad Davis, banjo and dobro, and Travis Davis, guitar and vocals. Some of these were members of the original County Line Bluegrass Band.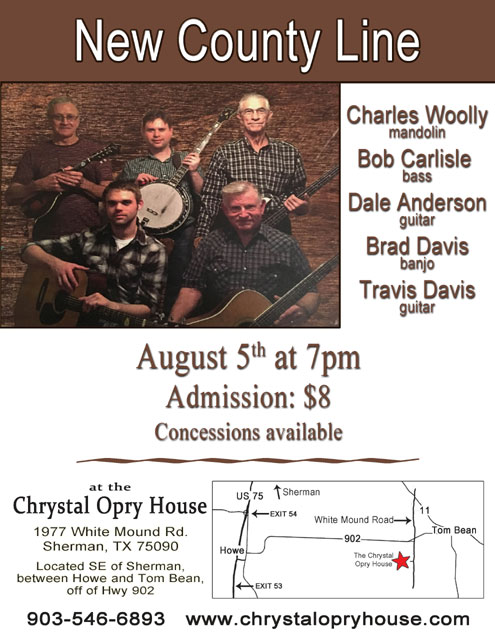 Admission is $8 per adult with children under 12 admitted free with an adult. Doors will open at 6:00 pm. Concessions will be available. We have brisket sandwiches, hamburgers, hot dogs, candy, ice cream, coffee, water, sodas, and popcorn.
The Chrystal Opry House is located at 1977 White Mound Road, Sherman, Texas which is 1.5 miles west of Tom Bean or 6 miles east of Howe on FM 902 and a half mile south on White Mound Road. Seating is provided. No alcohol is permitted and no smoking inside the building.