School News
DCCCD student starts fall semester as SMU Kramp Honors Transfer Scholar
Aug 3, 2017
Dallas – As the fall semester approaches, a Dallas County Community College District student will start her first day on campus at Southern Methodist University as an SMU 2017 Erin Tierney
Kramp
Honors Transfer Scholars. Carolyn
Iduh
has received a full-tuition scholarship to attend SMU for up to five terms.
Iduh previously attended El Centro College and will transfer to SMU; she is the eighth DCCCD student who has been be named an SMU Erin Tierney Kramp Honors Transfer Scholar.
The announcement was made recently by SMU administrators Nancy Skochdopole, director of transfer and transition services, and Jen Lasagna, director of transfer admissions during a scholarship award program.
The Kramp transfer scholarship was first offered in 2010 to recipients of DCCCD's Erin Tierney Kramp Encouragement Scholarship. Previous DCCCD students who have received the SMU scholarship include: Michael Dylan Lewis, 2010; Amanda Collins, 2011; Shradha Singh, 2012; Stephani Kobe-Ange; Ibrahim Kamara, 2016; and Keaton Johnston and Ojaswee Giri last year. Recipients must be Erin Tierney Kramp Encouragement Scholarship recipients; must complete at least 50 transferable credit hours; and must earn a minimum 3.5 transferable GPA.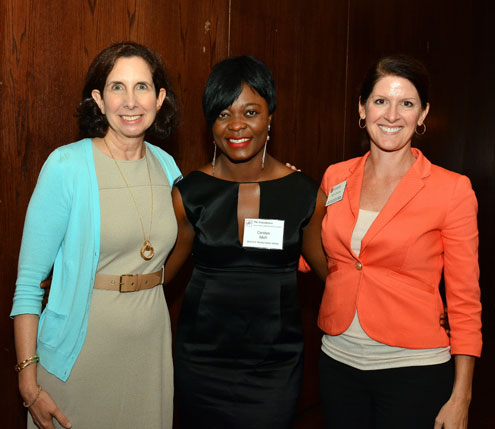 (L-R) Nancy Skochdopole, SMU director of transfer and transition services; El Centro College student Carolyn Iduh; and Jen Lasagna, SMU director of transfer admissions
Iduh has courage. She has persevered and survived challenges that likely would have overwhelmed others. But she didn't give up – and that perseverance and courage which she displayed in the face of adversity are traits exhibited by the person for whom the award is named at both institutions. Erin Tierney Kramp, who fought breast cancer from 1994 to 1998, created a videotaped legacy on "life lessons" for her young daughter that would convey Kramp's views and advice to Peyton as the young girl grew up, following her mother's death.
Erin touched many lives and inspired countless strangers when she co-authored Living with the End in Mind (written with her husband and a family friend) and through appearances on programs like 20/20 and the Oprah Winfrey Show. Winfrey featured the Kramp story/segment as one of her "most memorable guests" during a May 2011 farewell show as the program reached its historic end. Erin's story lives on through the Kramp Foundation, the DCCCD scholarship program, the SMU scholarship program and the lives of all of its recipients.
Michael Brown, president of the Erin Tierney Kramp Foundation, said, "We are extremely honored and grateful for the opportunity to partner with such a prestigious educational institution as SMU. Further, we are thrilled to be able to expand the educational opportunities available to our recipients who have demonstrated 'courage and perseverance in the face of adversity' in addition to their outstanding academic and leadership qualities."
Brown added, "We are confident that the outstanding individuals selected to receive these transfer scholarships will make excellent additions to the SMU student body."
Former El Centro student Carolyn Iduh, a native of Nigeria, had dreamed about becoming a doctor since she was a young child. She excelled in school but also experienced firsthand the challenges of coming from a home where her once-loving dad abandoned the family and constantly beat her mother.
Carolyn grew up quickly, working part time to help her mother, whose own job kept her away at night.  She made sure her siblings stayed in school and eventually began to work full time, again to help her mom. 
Sometimes Carolyn cried herself to sleep at night, sad about her situation and yet determined to go to school and become a doctor. She became a tutor, learned and used some nursing skills, and began helping people online who were sick, young or from broken homes. Iduh taught in her church; she also served as a motivational speaker and counselor in communities, schools and online. In spite of the challenges she has faced, she continues helping many young people fulfill their dreams. 
Iduh's dream to enroll in college in the United States and to become a neurosurgeon became reality when one of her pastors in Nigeria sponsored her to come to the U.S. to study. Joyfully, she left her country and came to America, without a home or friends. Then the funds to support her fell through. Since then, she has been working on campus and struggles to pay for her education. 
She said," I refuse to give up. I wake up each day not knowing how I am going to survive, but I smile, knowing that God loves me and that he brought me here. Reaching out to others daily gives me strength and joy to overcome and stand up to any adversity." 
Iduh also wants to establish a scholarship foundation to help young people; to help women and children fight HIV/AIDS; and to celebrate young people and their impact by starting a television show.
For more information, contact Jen Lasagna, director of transfer admission at SMU, at either 214-768-2058 or at jlasagna@smu.edu; or Ann Hatch in the DCCCD office of public and governmental affairs at 214-378-1819 or ahatch@dcccd.edu.