Religion
Chef from Grand Central Station to speak to Unitarian Universalists
Aug 8, 2017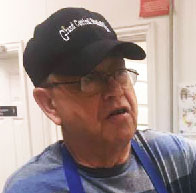 Denison -- The people at Red River Unitarian Universalist Church have invited Mr. Ben Merrill, Food Manager and Chef of Shermanís Grand Central Station, to speak at their 11:15 a.m. Morning Assembly this Sunday. Merrill will discuss the work of Grand Central Station, which has been serving lunch six days a week to guests for whom it is often their only meal of the day.

Since its founding seven years ago, Grand Central Stationís Dining Car has served 206,237 meals (through March 2017).

Merrill said most people donít realize just how many people in our area live on the streets. ďYou donít know how fortunate you are until you come into one of these places and see what goes on.Ē

The congregation extended the invitation in order to learn more about the extent of homelessness in Texoma.

The 10:00 a.m. Adult Forum, having taken a brief break from a study of Native Peoples of North America, will return to the Great Series class on Sunday.

Tuesday evening the Texoma Earth Day Planning Committee will meet at 6:30 p.m. in the Chapel to continue planning for next Aprilís Festival. The 2018 festival will mark the ten anniversary that Earth Day has been celebrated in Texoma.

Mornings at Red River Unitarian Universalist Church begin, for those who wish, with an hour of quiet, pensive meditation starting at 9:00 am.

The congregation, a Love Beyond Belief community, is located at 515 North Burnett Avenue in Denison and welcomes all who wish to explore matters of faith free from the restrictions of dogma or creed.