Obituaries
Marietta Snow
Aug 8, 2017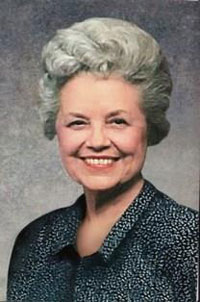 Del City, Oklahoma -- Marietta Snow, 93, went peacefully to be with her Lord on August 3, 2017. The daughter of Texans, Robert and Mary Bell Bellows, Marietta was born Sept 9, 1923 near Ector. She married David Snow on August 1, 1942. They lived most of their married life in Del City where they raised four children.

Marietta gardened, canned, quilted, did oil painting, did church work, and volunteered for the American Cancer Society . She was the consummate wife, mother and grandmother.

Marietta was preceded in death by her parents, husband, son, Ron Snow, two brothers and a sister. She is survived by her children: Gary and Linda Snow, Phonda Curl, Linda and Mike Snodgrass, and daughter-in-law, Debbie Snow. Also by thirteen grandchildren and twenty-eight great-grandchildren. A sister and three brothers, their spouses, numerous nieces and nephews and friends are also among her survivors.

Viewing will be held 6:30-8:30 p.m. Thursday, August 10, at The Eisenhour Funeral Home SE on 29th Street. Services to celebrate her life will be held at 10:00 a.m. on Friday, August 11, at the Del City Church of Christ. Burial will be on the same day at 4:00 p.m. at Carson Cemetery in Ector, Texas.