Obituaries
Wanda L. Langham
Aug 9, 2017
Ivanhoe, Texas -- Graveside services for Wanda LaVerne Langham, 81, of Ivanhoe, will be held at 11:00 a.m. Thursday, Aug. 10, 2017 at Owens Chapel Cemetery under the direction of Wise Funeral Home. Skeeter Fogle will officiate. Wanda passed away Tuesday night, Aug. 8, 2017 at Texoma Medical Center in Denison, Texas.
Wanda was born Oct. 4, 1935 in Parnell, Texas, the daughter of Arthur James Meadows and Birdy Marie Byroum Meadows. She lived in Amarillo, Texas from age 5 until 1982. Wanda married Floyd Lee Langham on May 18, 1952 in Clovis, New Mexico. She loved music and studied the steel guitar and standard guitar for 3 years and played on the radio and in concerts. Wanda also studied Real Estate (accounting), bookkeeping and typing. She then became a licensed vocational nurse and worked for Seven Oaks Nursing & Rehab for 30 years before retiring. Wanda loved her family, working crosswords and entertaining. She was preceded in death by her parents and a sister, June Marie Meadows.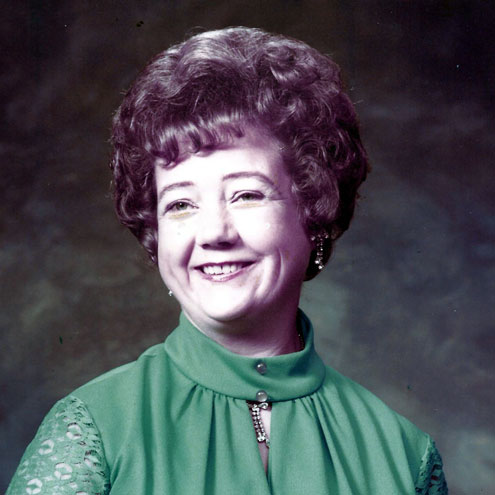 Wanda Langham is survived by her husband, Floyd Langham of Ivanhoe; children, James Langham and wife, Kay of Bushland, Texas, Janice Portwood and husband, Robert of Childress, and Lloyd Langham and wife, Crystal of Honey Grove, Texas; and grandchildren, Matthew Langham and wife, Tiffany, Joshua Langham and wife, Alicia, Tonya Kroll and husband, Cody White, Tammy Imhof and husband, Cody, Kim Portwood and husband, Chris Ross, Jennifer Dophied and husband, Mark and Randi Langham; 25 great grandchildren; one great great granddaughter and two more great greats on the way; a number of cousins, extended family and friends.
The family will receive friends at Wise Funeral Home from 9:00 to 10:00 a.m. Thursday, prior to service time. Online guest register www.wisefuneralhome.com