Local News
Cindy Baker Burnett, Lanny Joe Burnett entertain Kiwanis Club of Bonham
Aug 11, 2017
Bonham -- Next to donating money to youth groups of Bonham and Fannin County, Kiwanians like to laugh. And laugh wholeheartedly they did as Cindy Baker Burnett and Lanny Joe Burnett, humorist and cowboy poet, entertained the group. Both are from Bonham and have the good humor to prove it.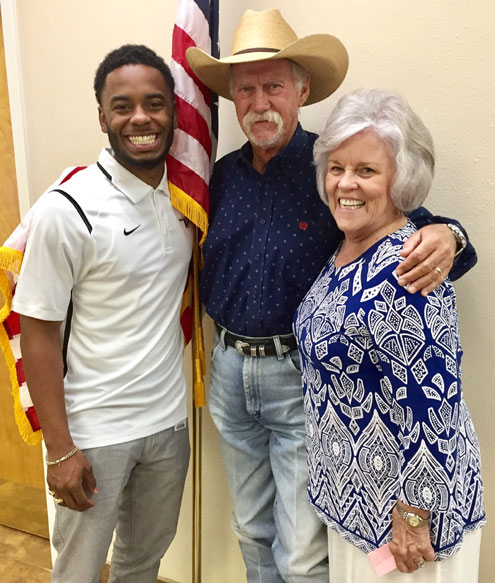 (L-R) Jordan Thompson, Lanny Joe Burnett and Cindy Baker Burnett
Ryan Burnett, grandson of Kiwanian John Burnett, demonstrated to Kiwanians how to throw a baseball. He not only showed how to hold the baseball and release it, but explained the aerodynamics as well. Ryan is a recipient of a Kiwanis scholarship. He will attend TWU in Denton, where he will study to become an anesthesiologist. Although Ryan was offered several college scholarships to play baseball, he decided to forego baseball to study his chosen field.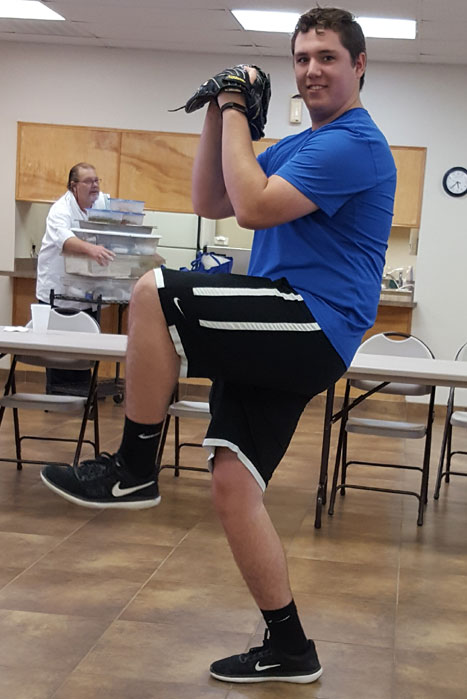 Ryan Burnett
Jordan Thompson, communications specialist for Bonham ISD, talked to the group about what is happening at Bonham ISD. Thompson filled in the group about new programs, as well as continued old programs.
Brandon Caffee, Juvenile Probation, spoke to the club members about how they are dealing with fewer employees and less money. Juvenile Probation continues to aim toward the same expert service they have always given, despite the shortage of employees and money.
Ronnie Atnip told members the story of the Lee-Peacock Feud, which was more like an all-out war. This war began in part of 1867 and continued until June 1869. Many of the participants are buried in Fannin, Hunt, and Grayson counties.
Incoming president Norman Young and secretary Mary-k Ashley Wilson recently attended a training class for Kiwanis in Gainesville, Texas.
Judge Lauri Blake and the committee continue to work on details of the Amphitheater rehab program. This will be a great addition to Fort Inglish Park and the city of Bonham when completed.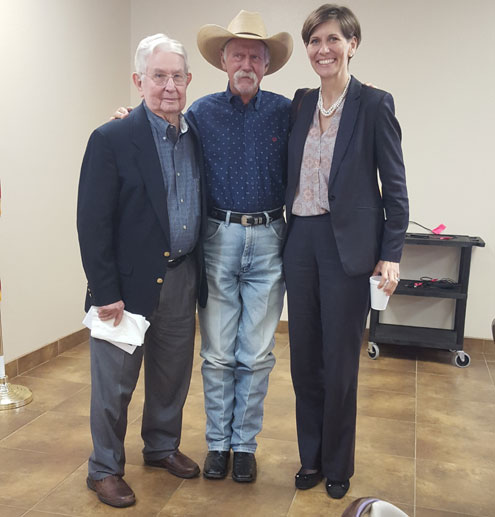 (L-R) Bro. Bill Beazley, Lanny Joe Burnett and Lauri Blake
The Bonham Kiwanis meet each Tuesday noon at the Bonham Housing Authority, 806 West 16th Street. Chef Ken Elliott provides the delicious meals. Dr. John Egstad is president. Please continue shopping at Bonham Trade Days.
Also, please see Kiwanis Club of Bonham on Facebook and Bonham Trade Days – Kiwanis Club of Bonham on Facebook. Mary Karl and Delano Smith keep both Facebook pages up to date.