Obituaries
James Lee Metze
Aug 10, 2017
Anna, Texas -- James "Jim" Lee Metze, 78, was born on July 11, 1939 in Tecumseh, Oklahoma. He passed away on August 9, 2017 in Anna, Texas. Jim was the second of four children. His parents, Clyde Marshall Metze, Jr. and Sara Smith Metze, preceded Jim in death as did his elder brother, Clyde Marshall Metze, III.
Jim grew up in various cities in Oklahoma, Kansas, Nebraska and Texas and graduated from Levelland High School, Levelland, Texas in 1957. He graduated from Texas Tech University earning both a bachelors and master's degree in math and physics. Jim loved playing in the band while in high school and college.
Jim had a passion for music. He played several instruments but loved the trombone and string bass the most. Jim not only played in the marching band, but also played for Sonny West's rock and roll band and recorded several songs including "Rock-Ola Ruby" and "Sweet Rockin' Baby." The band would later open for Buddy Holly and the Crickets.
After graduating from Texas Tech, Jim moved to Seattle, Washington to work for the Boeing Company. He later returned to Texas where he worked for the LTV Corporation, which became E-Systems (and later bought out by Raytheon).
Jim's work at E-Systems was often a mystery among his family members as it involved classified government projects. Jim enjoyed an award-winning career over 30 years. In fact, Jim's involvement with the flight-automated system used with the Federal Aviation Administration later became an exhibit at the Smithsonian Institution Air and Space Museum in Washington, D.C.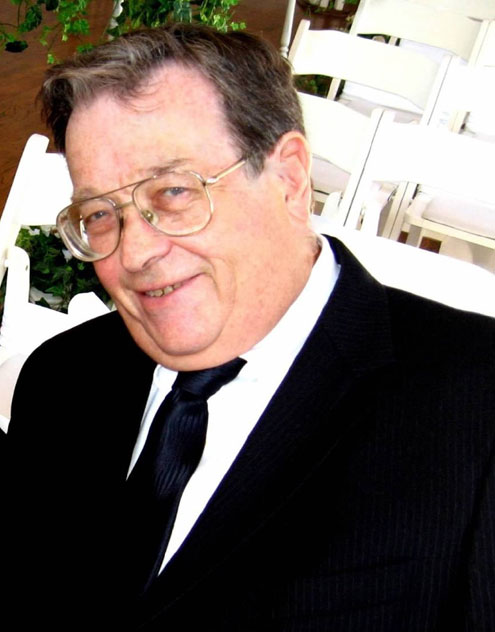 It was at E-Systems where Jim met his wife, Earline Metze. Jim is survived by his wife, Earline Pace Metze, and his children, Steven E. Metze and his wife, Tiffany, of Austin; Sharla Metze Davenport and her husband, Tripp, of Prosper; and Matthew Rollins of Las Vegas, Nevada. He also leaves behind his loving grandchildren, Alwynne Metze; Reagan, Addie and Libby Davenport; and Hunter and Brooklyn Rollins. Finally, he is survived by his two siblings: Mike and his wife, Brenda Metze, of Corsicana, and Pat Metze of Lubbock. He is also survived by numerous nieces, nephews and loyal friends.
The family wishes to thank all of those who have cared for Jim during his fight against cancer.
Funeral services will be held at 11:00 a.m. on Saturday, August 12, 2017 at the Scoggins Funeral Home Chapel. Burial will follow at the Van Alstyne Cemetery.
The family will receive friends on Friday, August 11 from 6:00 p.m. to 8:00 p.m. at Scoggins Funeral Home.
In lieu of flowers the family requests donations be made to the American Cancer Society.
.Arrangements are under the direction of Scoggins Funeral Home & Crematory, 637 W. Van Alstyne Pkwy, Van Alstyne, TX 75495.