Columnists
Crow's-Feet Chronicles: Grandkids give us a lift
Aug 14, 2017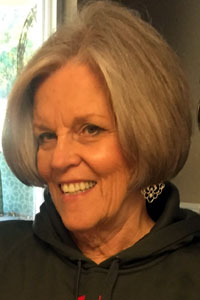 Entertaining grandkids is nothing like it was when I was a youngster. My grandmother could keep me busy for hours by letting me string buttons with a needle and thread. I play hide and seek with my grandkids and tell them not to look for me.

Nanaw kept a huge white bucket with a lid. This bucket was a never ending source of sugar cookies, which could be eaten at will. No one ever told me that I couldnít have one. Currently, I use part of my pension to pay for Smuckerís Goober, which is grape jelly and peanut butter stripes swirled in a jar, for the grandkidsí snack. The quadruple in price is probably for the floral design found on the top when the lid is removed. Itís like cappuccino foam pictures or like the stamp of a shamrock on a Guinness in an Irish pub. Separate jars of store-brand peanut butter and grape jelly combined for a sandwich are simply not acceptable in these times.

One thing hasnít changed---the thrill of telephones. With the receiver on my grandmotherís rotary phone in the down position, I loved to twirl the dial to the right and hypnotically watch it click all the way back, over and over again. Iíd quietly lift the receiver and listen on the party line to her neighbor describe the pus that oozed from her husbandís incision or share the news that hardly-married-a-month So-and-So was in a family way. When I CAN find my iPhone, the battery is always low because one of the grandkids has been playing ďDoodle JumpĒ or ďToki ToriĒ until the juice is nearly gone.

We much preferred the claw foot bathtub to the washtub because it held more cousins at my grandmotherís house. Somehow through the years, though, the stopper got lost. The chubbiest of all the cousins was elected to sit on the drain. That would be me. Who knew lye soap could lather? We didnít have tub jets back then; we had to . . . uh, create our own bubbles. One thing hasnít changed---prolonged bath time is still a dead cinch for wrinkled fingers.

Rainy days at my grandmotherís house meant playing dolls with wooden spools of thread, cracking pecans underneath the treadle machine pedal, sliding down the banister, and racing marbles on the linoleum kitchen floor. Grandkids today require a massive inventory of DVDs, the ever-ready ability to shift at a momentís notice from a Yamaha Raptor ATV to an Arctic Cat Prowler UTV, and remote controls for every whim.

Although my grandmother never learned to drive, she was the kind of grandmother who would have taken us to shop at Academy. But she would have hidden her face in her gingham apron if she had seen my grandson Brock shopping last Tuesday for a maroon sports bra for his twin sister.

Itís all about support.