Sports
Dodd City goes 2-1 at Roxton tourney
Aug 11, 2017
Roxton -- The Dodd City Lady Hornets topped Tom Bean and North Hopkins before dropping a match to Detroit in pool play at the Roxton Volleyball Tournament on Thursday.
Dodd City started with a sweep of Class 2A Tom Bean, 25-17 and 25-18. Sarah Brent led the attack with four kills, Journie Hilliard contributed two kills and Delaney Pilliod put down a kill.
Against North Hopkins, the Lady Hornets opened with a 25-17 win, but the Lady Panthers came back to take the second set, 25-18. In the truncated tiebreaker, it was Dodd City coming out on top, 15-10. Brent had four kills to pace the Lady Hornet offense.
The third match was a very competitive confrontation with the Detroit Lady Eagles. In the first set, Detroit managed to hold off Dodd City, 26-24. It was Dodd City with a 25-17 victory in the second set to pull even. The tiebreaker went to a 14-14 tie before Detroit claimed the final two points to slip by Dodd City, 16-14. Madelyn Underwood and Brent both had four kills, Abby Weeks put down three kills, Hilliard finished with two kills and Delaney Pilliod contributed a kill.
The Dodd City Lady Hornets (3-1) will return to the Roxton tourney on Saturday for bracket play.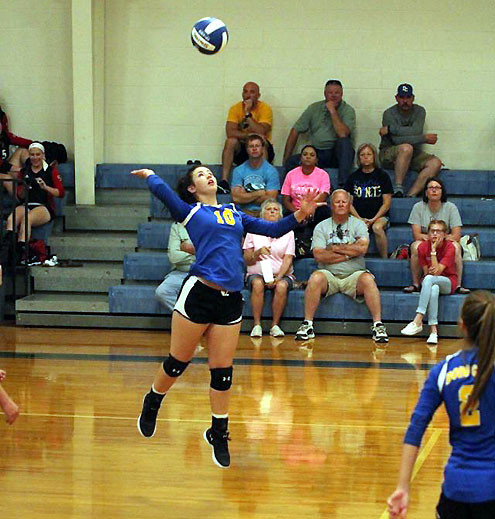 Dodd City's Madelyn Underwood concentrates on a hit as fans of the Lady Hornets look on. photo by Melissa Brent
Dodd City stats:
Dodd City vs Tom Bean
2-0 sweep
25-17
25-18
Sarah Brent 4 kills, 2 digs
Delaney Pilliod 1 kill
Journie Hilliard 2 kills, 1 block
Abby Weeks 2 digs, 6 assists
Dani Baccus 2 digs
Madelyn Underwood 3 digs
Dodd City vs North Hopkins
2-1 win
25-17
18-25
15-10
Sarah Brent 6 kills, 4 digs
Abby Weeks 1 block, 1 dig, 11 assists
Journie Hilliard 2 kills, 1 block
Cassandra Woodlee 1 kill, 3 digs,
Madelyn Underwood 3 kills, 2 digs
Delaney Pilliod 1 dig
Dani Baccus 1 dig

Dodd City vs Detroit
2-1 loss
26-24
17-25
14-16
Sarah Brent 4 kills
Delaney Pilliod 1 kill
Journie Hilliard 2 kills, 5 blocks
Abby Weeks 3 kills, 10 assists, 2 blocks
Madelyn Underwood 4 kills
3-1 overall record