Sports
Dodd City Lady Hornets win Roxton Tournament
Aug 13, 2017
Roxton -- The Dodd City Lady Hornets had their brooms out Saturday as Dodd City swept Roxton, Detroit and Tom Bean to win the championship at the 2017 Roxton Volleyball Tournament.
Dodd City overpowered Roxton, 25-4 and 25-10, to advance to the tournament semifinals.
In the semifinals, the Lady Hornets avenged a loss to Detroit in pool play by dispatching the Lady Eagles in straight sets, 25-19 and 25-16.
In the finals, Dodd City continued its winning streak with a sweep of Tom Bean, 25-17 and 25-16.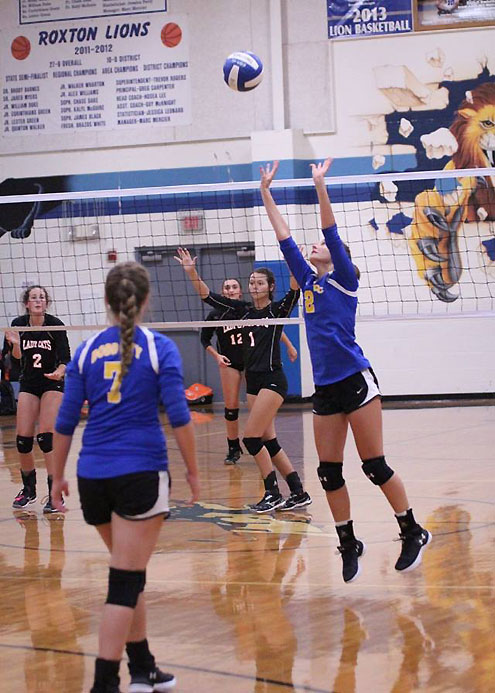 Dodd City's Abby Weeks lofts a set to one of the Lady Hornet hitters in the win over Tom Bean. photo by Melissa Brent
Sarah Brent had 18 kills in the three matches to lead the Lady Hornets, Journie Hilliard knocked down nine kills and Delaney Pilliod put down eight kills.
The Dodd City Lady Hornets are now 6-1 on the season.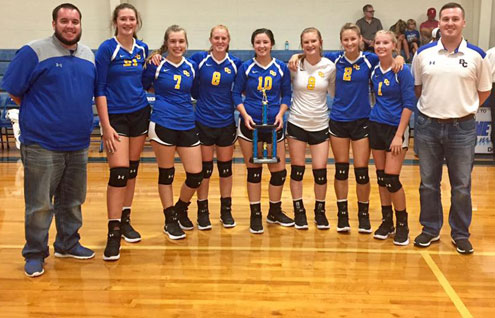 2017 Roxton Volleyball Tournament champs - Dodd City Lady Hornets - photo by Melissa Brent
Dodd City sweeps Roxton 2-0
25-4, 25-10
Journie Hilliard 5 kills
Sarah Brent 8 kills
Delaney Pilliod 2 kills
Abby Weeks 15 assists
Madelyn Underwood 1 kill, 3 digs
Cassandra Woodlee 1 kill, 1 dig
Dani Baccus 3 digs

Dodd City sweeps Detroit 2-0
25-19, 25-16
Journie Hilliard 2 kills, 2 blocks
Sarah Brent 6 kills
Abby Weeks 11 assists, 2 kills, 3 digs
Dani Baccus 3 digs
Madelyn Underwood 1 kill, 2 digs, 2 assists
Cassandra Woodlee 1 kill, 2 digs
Delaney Pilliod 3 kills

Dodd City sweeps Tom Bean 2-0 for the championship
25-17, 25-16
Journie Hilliard 2 kills, 2 blocks
Abby Weeks 7 assists, 2 kills, 1 block, 3 digs
Dani Baccus 2 digs
Cassandra Woodlee 1 kill, 2 digs
Madelyn Underwood 1 kill, 2 assists
Delaney Pilliod 3 kills
Sarah Brent 4 kills, 3 digs
6-1 overall record