Lifestyles
Hardin Burns duo brings new harmonies to Harmony House
Sep 16, 2017
Fannin County, Texas -- From 4:00-6:00 p.m. on Sunday, September 17, 2017, Harmony House Concerts will feature the duo called Hardin Burns. You are invited to attend and hear these two accomplished acoustic guitarists weave their harmonies into tapestries of songs.
To make your reservation/s to attend this special event in the casual atmosphere of our vintage home at Wildscape Acres, call 903-583-2661. Leave the number of seats desired and your contact information (preferably, e-mail address). The suggested donation is $15 per person with all proceeds going to the performing artists.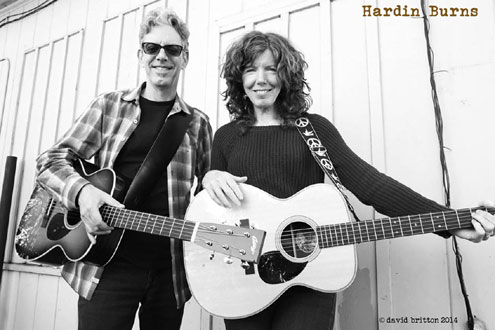 Andrew Hardin & Jeannie Burns have formed what they called a New Americana Band.
To prepay, please make your check to Andrew Hardin and mail to Faye Wedell; P.O. Box 812; Bonham, TX 75418 to be received by September 14. Should you need to cancel, please do so by the same date and your check will be returned. Or, you may pay by cash or check at the door (no credit cards). However, if you make a reservation, please have the courtesy to show up or call and cancel in a timely manner.
Wildscape Acres is located 10 miles north of Bonham, TX (near Ravenna) or about 65 miles NE of the Dallas metroplex. When you call for reservations, you may request directions to be sent to you. Visit our website, www.WildscapeAcres.com, to learn more about us and to check out the Harmony House link and upcoming schedule for singer-songwriters appearing here. Hardin Burns will perform two 45-minute indoor sets, with a 30-minute intermission to allow guests to stretch and graze on snacks or get a refill on coffee. It's also an ideal time to talk with the artists and to peruse their CDs. The intimate ambiance of Harmony House extends a welcoming hand to all those music lovers of North Texas and beyond.
Faye & Scott, the hosts of Harmony House will provide bottomless cups of coffee, tea, or herbal fruit punches for guests, along with cheese and crackers for 'munchies'. At this house concert, guests are asked to bring a finger food to share with others attending the concert. There will be tables in both the dining room and the adjoining bedroom for all these "goodies". A basket will be placed on the breakfast room table for any optional $1 cash donations to help host defray costs. No Potluck Dinner after the show. Faye & Scott will treat the entertainers to dinner, and guests are welcome to stick around and have a Song Circle in the Dining Room. Bring your instruments, voices, or just ears to listen. Andrew & Jeannie will be spending the night at Wildscape Acres, so they'll probably join in, if invited to do so.
To hear and see videos of Hardin and Burns, visit their website www.HardinBurns.com and enter at your own risk. You won't regret it. You will see and hear how these two musicians have formed a New Americana Band, unlike any other you've heard. They can make your heart sing and your body swing. Read the brief bio below for more information about this unique duo.
Bio of Hardin Burns:
Guitarist Andrew Hardin and vocalist Jeannie Burns have teamed up to write, record, and perform as Hardin Burns. After meeting at Woody Guthrie Folk Festival in 2009, the two began writing what would eventually become their self-released debut recording Lounge in 2012.
Lounge includes nine original songs and a cover of George Harrison's "Beware Of Darkness." The duo have also recorded a two-song CD of a new original, "Ache," and Howlin' Wolf's classic "Smokestack Lightning." Acoustic Guitar Magazine included Lounge on its Essential Acoustic Albums list for 2012 and called it "...an addictive set of earthy, hook-filled melodies, stunning harmonies, and graceful virtuosity on acoustic and electric guitars."
In April 2014 , the duo recorded their second collection, entitled Down The Deep Well which will be released in the fall. Co-produced by Gabe Rhodes in Spicewood, Texas, the recording features legendary drummer Dony Wynn and upright bassist David Carroll.
Andrew Hardin lives outside of Austin, Texas, and is best known for his long association with songwriter Tom Russell. He has also performed and recorded with such artists as Jimmy LaFave, Eliza Gilkyson, Malcolm Holcombe, and Joel Guzman. He has released four solo albums of instrumental guitar music and a new retrospective entitled Lost Pines featuring noted guitarists Albert Lee and Amos Garrett.