Local News
Schedule of special events at Hagerman National Wildlife Refuge
Sep 1, 2017
Butterfly Garden Walk
Saturday, September 2, and 16, 9:30 – 11:30am
Enjoy a stroll through the Butterfly Garden at Hagerman National Wildlife Refuge. Come on your own or bring the family. Every first, third and fifth Saturday, Garden docents will be on hand to help you identify the Texas native plants and the butterflies in the garden. Use our close-focus butterfly binoculars to get a really CLOSE look. Special activities for families available: scavenger hunts, meet the Metamorphosis Puppet and more. Garden walks are Come and Go or Come and Stay. The garden is free of charge and open to the public during Refuge hours.
Outdoor Crew Work Day
Tuesday, September 5 and 22, at 8:00am
Show your love for nature! Join the Outdoor Crew at Hagerman National Wildlife Refuge, sprucing up trails, trimming and removing brush, trash and general cleanup! Meet at the Visitor Center the first Tuesday and the fourth Saturday of each month. For more information, contact friendsofhagerman@gmail.com.
Garden Work Day
Wednesdays throughout the growing season: September 6, 13, 20, 27 at 9:00 – 11:00am
Love to garden? Enjoy spending time beautifying the butterfly garden at HNWR as part of a team that meets on Wednesday mornings through the growing season, weather permitting, for two hours. The team is organized on a come-when-you-can basis. Gardeners provide their own tool; snacks and water are provided for them. Gardeners get to take home extra plants! For more information, contact friendsofhagerman@gmail.com.
Early Bird Guided Walk
Saturday, September 9, 8:00am – 9:30pm
Join Texas Master Naturalist Jack Chiles for a guided birding walk on one of the trails at HNWR. Meet at the Visitor Center and return in time for the Second Saturday presentation. Bring binoculars or borrow ours. Cancelled in case of rain.
Second Saturday - Tishomingo NWR
Saturday, September 9, 10:00am – 11:30am
Learn about our sister refuge, established at the same time as Hagerman, from Tish Manager Rick Cantu. How is Tishomingo like HNWR and how is it different? What progress is being made on rebuilding after the Great Flood of 2015?
PLARN Demonstration
Saturday, September 9, 11:30am – 12:30pm
What the heck is PLARN? Come for the shorebirds, and stay to find out! Kelly Simpson will show you at this free demo, making bags, mats and more with yarn made from plastic grocery store bags.
Free Tram Tours, Saturdays & Sundays
Saturdays and Sundays at 2pm, Recommended for adults and children 6 years old and over.
Take a guided tour of the refuge with an expert birder aboard the open air, all-electric Carlos and Eulalia Cardinal Express! Enjoy a trip along Wildlife Drive and some of the Pad roads at the Refuge, with frequent stops to view and photograph wildlife, especially birds. Learn about the history of the town of Hagerman and the operation of the refuge.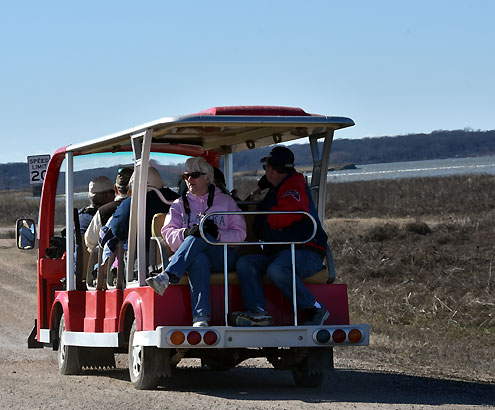 photo by Allen Rich
This 60-90-minute guided tour is offered on Saturdays and Sundays at 2 pm, weather permitting. Seating space is limited; please call to reserve your seat: 903-786-2826 between 9am-4 pm Monday thru Saturday or from 1pm to 5 pm on Sundays. Please speak to a volunteer when making or cancelling a reservation as volunteers are unable to access messages on the Refuge phone system. Tours are free of charge; however, donations to the tram maintenance fund are appreciated.