Local News
Want to be in a movie? Here's your chance!
Sep 2, 2017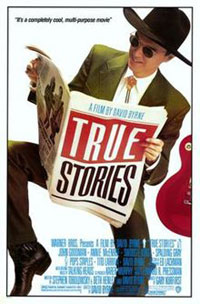 McKinney -- This Sunday, September 3, a visiting film crew is inviting the McKinney community and visitors (and especially twins!) to become part of a film and watch an awesome classic car cruise on the city's historic downtown square at 5:00 p.m. (The crew will begin setting up around 4:00 p.m.)

"The film team is looking for parade bystanders to be in the upcoming film Virgil, Texas Revisited which is being produced for The Criterion Collection's upcoming special edition DVD release of the now classic feature film True Stories," said Amy Rosenthal, Executive Director at McKinney Main Street.

Released in 1986, True Stories was filmed throughout the metroplex, including a memorable parade on McKinney's downtown square. The film takes place in the fictional town of Virgil, Texas and stars John Goodman, along with musician/artist David Byrne who also directed it.

"Film makers have a long history of shooting portions of their films, and sometimes entire movies, here in our community," said Beth Shumate, McKinney Convention & Visitors Bureau's Communications Manager. "We are always excited when we get filming requests and we really enjoy working with the location scouts and film makers. When they have the opportunity to involve our citizens and visitors, it makes the experience even better for all!"

The Morning Maniacs Classic Car Enthusiasts will stage a command performance vintage car cruise on the 100 block of N. Tennessee to be filmed for Criterion's upcoming DVD re-release of True Stories, thus the need for volunteer movie extras to make up the audience.

"We'd love to see a bunch of folks around the square Sunday afternoon, so grab Granny and the kids and become a part of the movie," said Christina Patoski, organizer for the filming crew, adding, "Our original director and star David Byrne is fascinated by twins so we'd especially like to see some sets of twins downtown as extras for this film."

For more information, please call Amy Rosenthal (Main Street) at 972-547-2652, Beth Shumate (McKinney CVB) at 972-547-2061 or Christina Patoski (film company) at 817-269-2326.