Religion
Spirit of Giving 2017
Nov 13, 2017
Bonham -- In November of 2016, First Presbyterian Church of Bonham hosted Bonham's third annual Spirit of Giving Community Christmas Party. Church members and partners donated new and gently used items which were given away, free of charge, to those in attendance. More than 450 men, women, and children were served during the event, and both volunteers and guests were richly blessed.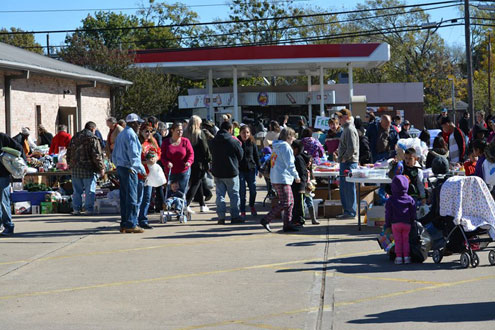 The church already has plans to hold the fourth annual Spirit of Giving on Saturday, November 18, 2017 from 11:00 a.m. – 1:00 p.m., and would like to invite your church, civic organization, or business to join in this unique event.
How does it work? All donated items are displayed at various stations, including coats, jewelry, household goods, holiday decorations, small furniture items, movies, toys, games, food baskets, etc. Everyone who attends the event, regardless of age, receives six tickets to "purchase" anything they want for FREE. Items large and small have a "cost" of one ticket. There are no income limits, paperwork, or qualifications imposed.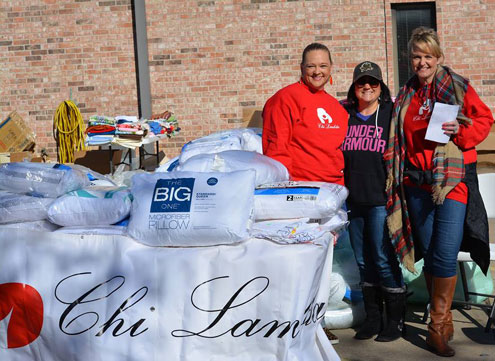 At our 2016 event, we welcomed several new stations. The Chi Lambda Sorority gave away new bed pillows, and Bonham Psychiatry hosted a station with new towels and soap. The K5 Fannin Radio Club served hot dogs and fixings to our guests. First United Methodist and First Assembly of God Churches also participated by contributing items. Our goal is to increase the number of groups participating in 2017.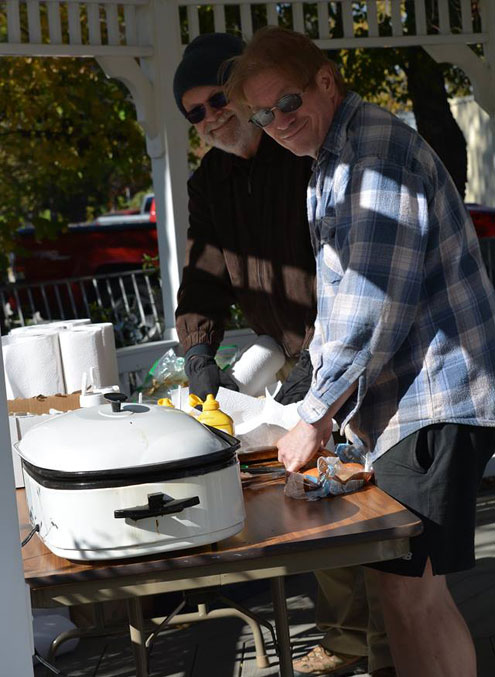 Volunteers serve hot dogs.
Your church, organization – or even your family – can identify an item you would like to give away at your station. Here are some suggestions:
· Blankets
· Stockings filled with toiletry items
· Food baskets
· Paper products
Then you simply collect your items, bring them to the FPC parking lot the day of the event, and give them away!
The idea for this event came from our neighboring town of Paris, when one family asked their church for permission to give away their excess stuff on the church parking lot. Other families decided to join them, and over a nine-year period the Paris event has grown to serve hundreds of people with many community groups participating.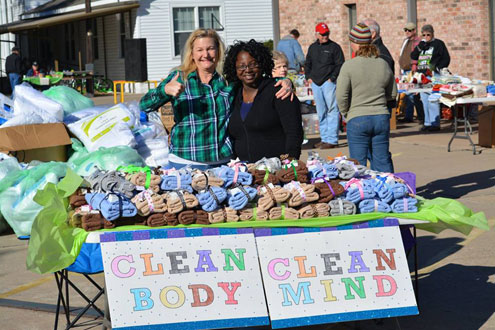 Those who have donated and volunteered the last three years have found this to be a wonderful way to start their Christmas season. The idea is not to create a charity event, but instead to challenge oneself to let go, and give up something for the benefit of another. We hope this event will grow in Bonham as it has in Paris, fostering community cooperation and building relationships while helping those in need.
For more information about how to be involved, contact First Presbyterian Church at 903-583-2014 or info@fpc-bonham.org. Members of our Mission Committee will be glad to answer questions about the event, or speak to your group about volunteer opportunities.