Columnists
Let's Reminisce: Gathered Words both enthralls and instructs
Sep 5, 2017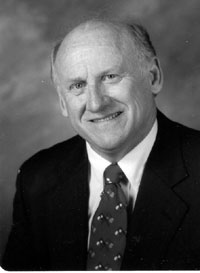 As one who has encouraged and also taught scores of individuals to write their life stories, I welcome The Gathered Words of Mulberry, Texas as the life story of a place, lovingly but also critically brought together by one of its citizens. The compiler/editor of this remarkable book, John Gregory Hall was born in this deep bend of the Red River more than eighty years ago, but his record of its history both extends back to earlier times and looks ahead to the future. Adding to the book's appeal are Hall's frequent allusions to classic European writers of the 19th and 20th centuries, such as Walter Benjamin and Marcel Proust.

The assortment of stories, told in a rich mixture of voices and media, with many period photographs, makes me think of a micro version of William Faulkner's mythical Yoknapawpha County, with its aristocratic Compsons, rascally Snopeses, and sturdy yeoman farmers in between (which could well have included the Halls, whose family history provides the spine of Gathered Words).

As with Faulkner, it's the stories that make Hall's book hard to put down (despite the fact that at almost 600 large format pages, it weighs more than three pounds). Consider the Fannin County "desperadoes" Hunter and Green, who were shot to death in Mulberry on Feb. 10, 1898, after they had fatally wounded Constable T. E. Milstead. Having brought together various accounts of the shooting and the crimes leading up to it, Hall provides a fitting conclusion by including photographs of the tombstone he placed on the grave (which the two men shared), with their names and the caption "Called Outlaws."

Mulberry had more than its share of "colorful personalities." One who might have been created by Faulkner was Gideon Smith, who purchased 3,000 acres of land on Red River that he cleared and put in cultivation. He owned a number of slaves who worked on his plantation raising corn and cotton as well as hogs, horses, and cattle. With the coming of the Civil War Smith raised a volunteer regiment and was elected captain, later promoted to colonel. In 1909 he was looked back on as one of Fannin County's leaders: "Col. Smith belonged to that old time class of Southern gentlemen who were always remarkable for their chivalry, their noble and honorable acts, generous deeds and gentlemanly bearings." (Not to mention White Supremacy.)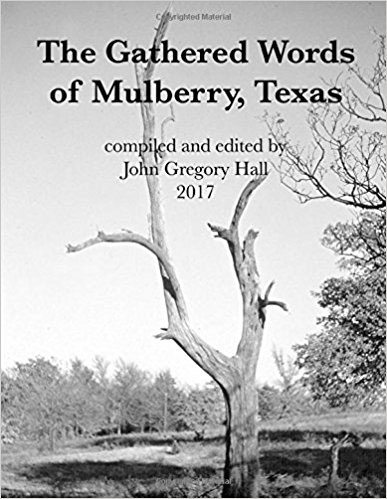 One major topic in the Mulberry story, the Rural Resettlement Administration of the New Deal era, was unknown to me, despite my having grown up in rural Texas. One of President Roosevelt's "alphabet agencies," this one had the goal of renewing agriculturally exhausted, worn-out land and relocating struggling rural families to homesteads planned by the federal government. In 1937 it was announced that 16 sandy-land farms in Mulberry Bend on Red River would be divided into economic farm units. The size of the farms would run from 60 to 150 acres, all improved with a 4-room or 5-room house, a good barn and a poultry house.
The section of Gathered Words on the 1940s examines the impact of WWII on Mulberry and some of its citizens. These include Pfc. Trini Sanchez, who was a member of the firing squad that executed Pvt. Eddie D. Slovik, the first American soldier to be court-martialed for desertion since the American Civil War. Trini, who was a member of one of Mulberry's prominent Mexican-American families, said the execution wasn't "an uppermost memory of the war. His most profound memory was the Battle of the Bulge, in which 1/3 of his company was killed."
Available from Amazon.com for only $21, this book is a colossal bargain. The range and breadth of interesting stories in Gathered Words is such that I have merely scratched the surface. It's the kind of book you will tell your friends about and keep returning to because Mulberry's remarkable characters and vignettes stir you to revisit your own life story and the places that helped to make you the person you have become.
Jerry Lincecum is a retired Austin College professor who now teaches older adults to write their autobiographies and family histories. Email him at jlincecum@me.com.