Religion
Former minister at New Life Church of Sherman receives award in China
Oct 29, 2017
Zhengzhou, Henan, China -- Not long after his 59th birthday, a presentation was made to Michael Martin at the middle school campus of No. 19 Middle/High School here in Zhengzhou, Henan, China. The awards ceremony included a very special presentation in which, for the third time in the 5,000 year history of this province, a foreigner received the award. All three times, the award has gone to the same foreigner, Mr. Martin, a native of Sherman, Texas.
Formal education in this province dates back to before the ancient Chinese philosopher, Lao Zi, the author of the Tao de Ching. Lao Zi lived in nearby Luoyang about 2,500 years ago. It is believed that Luoyang is where a meeting between Lao Zi and Confucius took place.
Part of that history also includes the founding of Kung Fu by the monks of Shaolin Temple. Shaolin Temple is the famous birthplace of not only kung fu, but, the philosophic teachings of Taoism. Shaolin is actually located in Dengfeng which is under the municipal jurisdiction of Zhengzhou City. (If you're old enough to remember the television show, Kung Fu, with David Carridine, you will recall the flashbacks he had of being raised in Shaolin Temple.)
"I'm extremely honored to receive this recognition and award again," Murphy remarked.
Martin is the number one blogger for China Daily newspaper and has been for the past three years. China Daily is the largest English language (also has a large Chinese edition) in Asia.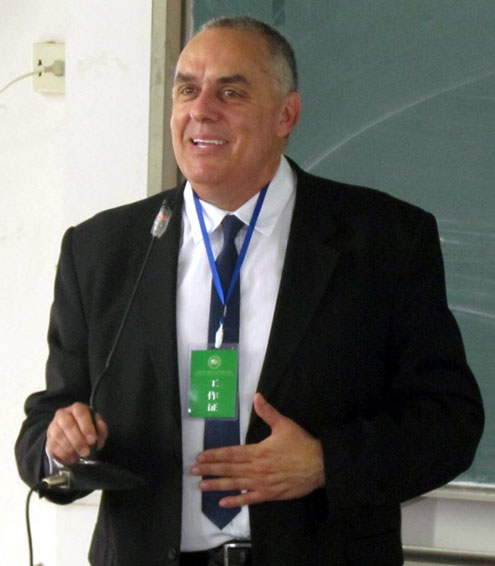 Michael Murphy, former minister at New Life Church of Sherman, gives a presentation at Henan University, Kaifeng, China.
He is the only foreigner who has been fully licensed by the government to open a private school in this province of 94 million people.
"Iíve been in China for 6 years and have lectured at more than 20 universities in Henan Province and Sichuan Province," says Murphy. "Iíve taught more than 4,000 classes in China including 350 Chinese English teachers who took a 24 live seminar course I was invited to teach by Henan Publishing Company. I presently have more than 11,000 Chinese English students who take daily English lessons from me via the social networking platform WeChat."