Lifestyles
Mystic Studio & Gallery reopens in Sherman
Oct 19, 2017
Sherman -- Mystic Studio originated in a small fishing village in Matagorda, Texas in 2001. It was the dream project of Joni Beamish, and started out as a small clay studio in an old gas station. It wasnít long until Joni noticed faces occasionally peering into the front window; then one day a couple of women out for a walk ventured in and said, "We love this stuff...can we buy some?" The rest is history. Mystic Studio relocated to Denison, Texas in 2007 where it grew to fit a 9,000 sq. ft. space.
Joni bought an old warehouse at the corner of Main and Houston Street in the downtown Denison. She renovated the building into a huge gallery, studio and loft apartment. For many years people came to enjoy the unique and very eclectic collection of pottery, paintings, assemblages, and just cool stuff that could keep someone wondering around for hours. There was a certain aura to the space that brought intrigue and smiles to anyone that walked through the front door.
Mystic Studio & Gallery has now reopened in a new historic building in downtown Sherman located at 104 W Mulberry, corner of Travis & Mulberry. If you missed it the first time, the charm and wonder of Mystic Studio is back.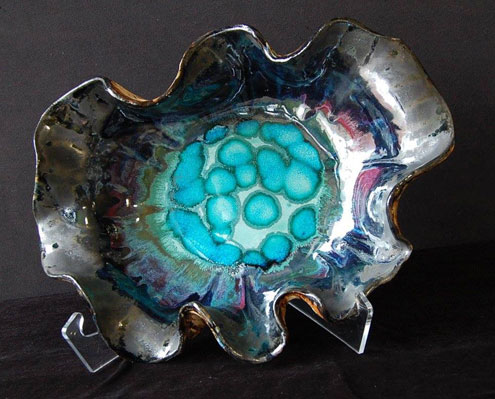 Joniís work is moving, challenging, and alluring. Joni draws motivation and inspiration for her pottery from nature and extensive travel throughout the world. Ideas emerge as her work is in progress; many times the piece takes an unplanned but exciting new twist. The result is a unique study with fluid lines, contrasting textures, and an infusion of earthly colors.
Over the years Joni has developed her own style incorporating highly textured, multi layered surfaces, patterns, unique glazes, and stains. Joniís art is a reaction to her driving passion for self-expression, drawing meaning through objects that speak to her. She embraces her good fortune and eclectic path by creating art that has the potential to engage on an intimate and personal level.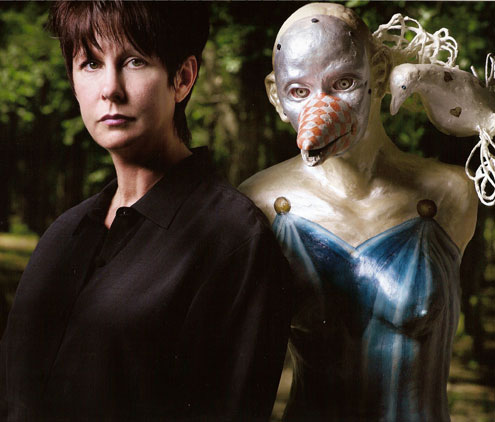 Joni regards being an artist as an extraordinary privilege.
Joni has a very creative eye for putting found objects, old wood, rusty metal pieces, ceramic pieces, and a little of this and that into works of art that can be mesmerizing. She is definitely inspired by the unusual, and then on the other hand she paints beautiful landscapes and women with angelic faces. Her studio space is open to anyone coming in the gallery, it can be very interesting to see all the different types of work in progress.
Mystic Studio is a place to come and be inspired.