Lifestyles
Run Out Domestic Violence - Holly Martin Memorial 5K slated Nov. 4
Nov 4, 2017
5K - USATF Certified
Bonham -- Please come join us Saturday, November 4, 2017 for the 4th annual Run Out Domestic Violence - Holly Martin Memorial 5K Fun Run to benefit the Fannin County Family Crisis Center and the Holly Martin Scholarship Fund.
According to the American Psychology Association, every day in the U.S. an average of three women are murdered by their spouse of intimate partner. Holly Martin excelled at athletics and academics at Ector High School in the late 1980s, graduating as valedictorian before going into a career she loved in nursing.
This is an opportunity to heighten awareness of domestic violence while also helping others through scholarships in nursing. The Holly Martin Memorial Nursing Scholarship, which was endowed in 2015, will award five scholarships this year. A portion of the funds raised at this event will also benefit Fannin County Family Crisis Center.
"This event is to honor Holly, who was a victim of domestic violence," explains Carlie Bachman, Holly's niece, who went to UT Arlington and got her RN, BSN degree to follow in Holly's footsteps. "Holly was a loving mother, daughter, sister and friend. She was funny, full of life, had a smile that was contagious and loved her job as a nurse where she could care for others."
"We are here for the 5K, but we are also here to remember Holly," says her mother, Nancy Gallemore. "She would be so happy to know that we are helping others attain the same dream Holly had - a career in nursing - and I wouldn't be able to do this without the assistance of our local crisis center. We want men and women to realize that intimidation and domestic violence is not their fault and that they can get help before it is too late."
The thought of Holly's friends that show up every year for this event brings a smile to Nancy's face.
"It is such a blessing to see her school friends," Nancy remarks. "They are very faithful."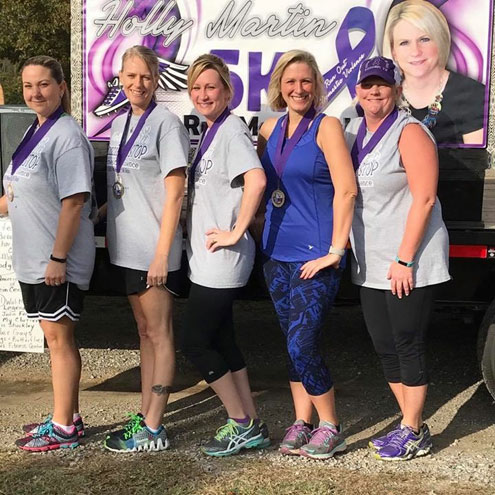 (L-R) Classmates of Holly and Holly's sister at last year's 5K: (L-R) Nicole Long, Barbara Polk Long, Amy Cox, April Hill and Theresa Easley
In addition to the dozens of supporters who turned out for this event last year, the Allen Americans Ice Angels, a professional dance team that support the Allen Americans hockey team, also lent their support to this worthy cause to raise awareness of domestic abuse.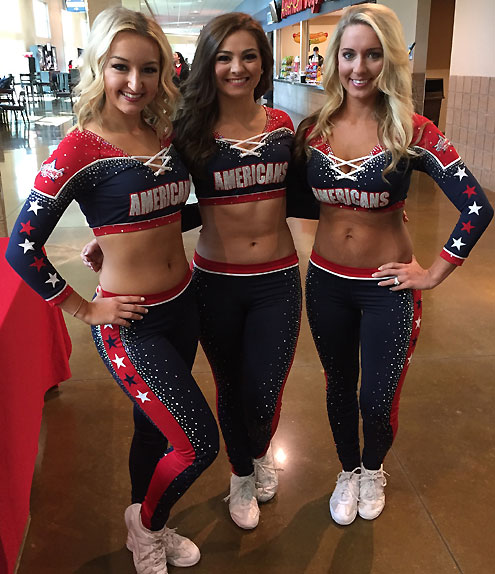 Ice Angels
Run Out Domestic Violence - Holly Martin Memorial 5K is slated for Saturday, November 4, 2017 at Bonham Civic Center (Armory) located at 1100 W. 5th Street.
Registration begins at 7:30 a.m., followed by the Fun Run and 5K.
The awards ceremony will be held immediately afterward.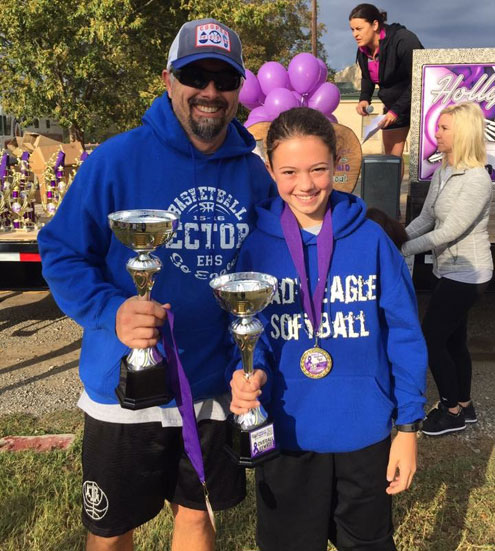 Last year's winners: Brad Evans and Riley Evans
To register online, please go to http://getmeregistered.com/RunOutDV5K or print and return the registration form to Fannin County Family Crisis Center at 118 E. Sam Rayburn Drive in Bonham TX 75418.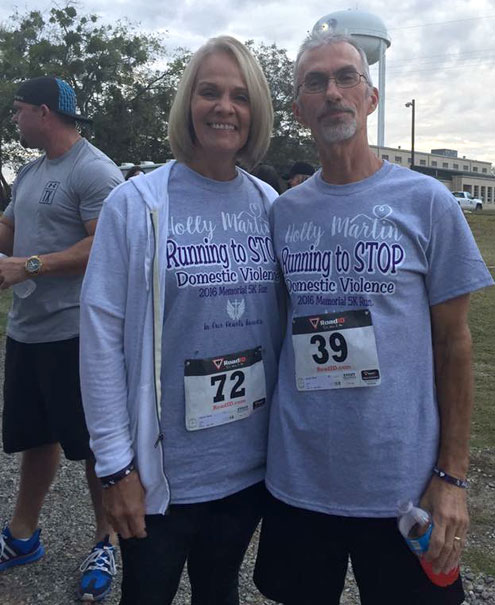 Dave and Shelly Abbott
Trailer provided by The Trailer Guys, each year!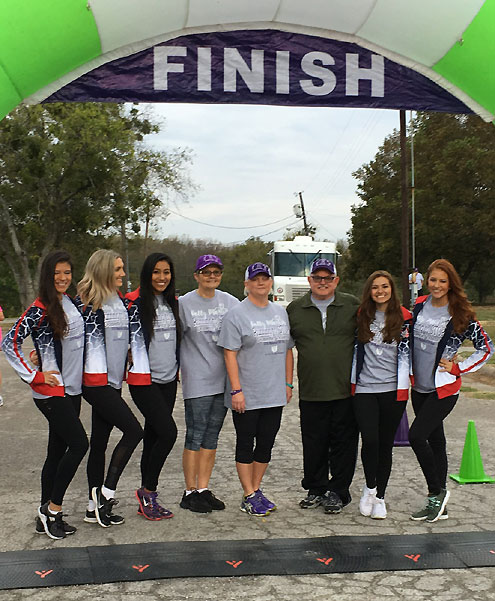 Five Ice Angels with Ken Gallemore, Theresa Easley and Nancy Gallemore in 2016.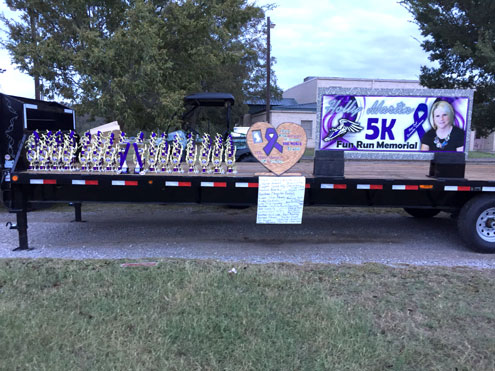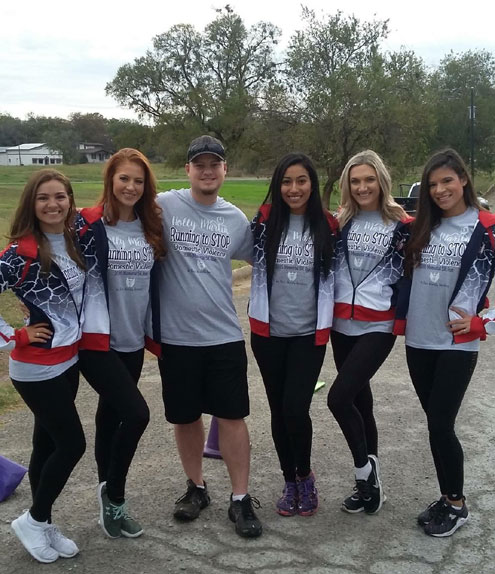 Kellen Murphy with the Ice Angels.
Thank you, sponsors!
Bonham Floral
Fannin Bank
Clayton Homes
Bonham Chrysler Dodge

McCraw Oil
Sunshine Dental

Cooper Sorrells
Bonham Quick Lube
Hall Supply
Los Amigos
Custom Built Awards
Loan Star Pawn
Cole Title Company
Dr. Hayes Vein Center
Charlotte's Clipping Post
Baylor Scott & White Hospital
Legend Bank
American Bank
Doris Shockley Insurance
Trenton Bank
My Clutter
Nautilus-Massage Now
John Farris
Fannin Pharmacy
Bonham Wal-Mart
Meade Insurance
Blessings and Butterflies
The Trailer Guys
Market Street
Brookshire's
Texoma Regional Blood Bank
Thrive-Premium Lifestyle
Fannin Crisis Center
Kevin Simons