Obituaries
Regunial Eugene 'Gene' Wilson
Sep 9, 2017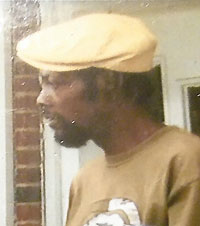 Bonham, Texas -- Funeral services for Regunial Eugene "Gene" Wilson, 53, of Sherman, Texas will be held 1:00 p.m. Monday, September 11, 2017 at Wise Funeral Home Chapel in Bonham, Texas. Officiating will be Elder James Ezell. Scriptures will be read by Minister Tony Ross and Rev. Stuart Courtney. Interment will follow at St. Mark Cemetery in Dodd City, Texas.

Gene passed away on September 7, 2017 in Sherman, Texas. He was born December 23, 1963 in Bonham, Texas to Hiawatha Perkins and Alma Wilson Bateman. Gene loved to watch movies, listen to music, dancing, fishing and riding chopper bicycles. Most of all he loved to make people laugh. People in Bonham may recall him walking on his hands around the Fannin County Courthouse.

Gene was preceded in death by his and Parents: Hiawatha Perkins & Alma Wilson Bateman, and nephew, Tommorris; great-nephew Jacques; step-father, Sam Bateman.

Surviving are his ; daughter, Ashley Record of Duluth, MN; sons, Reginald Record of Duluth, MN; grandchildren, Diamond, Beautiful and Forever Record of Duluth, MN; sisters, Hiwanda Wilson of Bonham, TX, Coatriana Azubuike of Sherman, Lameda Nelson of Garland, TX, Anita Mapps of Dallas, TX, Mary Ann Copeland and husband Bruce of Wichita Falls, TX, Onetha Thomas of Wichita Fallas, TX and Gladys Smith of Greenville, TX; brothers, Hiawatha Perkins, Jr of Ivanhoe, TX, Curtis Dwayne Wilson and wife Annie Ray of Bonham, TX, Derek Wilson and wife Barbara of Forrest Hills, TX, Briant Wilson of Bonham, Tracy Wilson and wife Kelly of Ravenna, Clarence Lee Thomas of Honey Grove, TX and Kevin Thomas of Sherman, TX. Other surviving family include numerous nieces, nephew and cousins.

Pallbearers will be Coby Wilson, Hycint Azubuike, Kevin Thomas, Shalon Thomas, David Roskowske and Rex Barnaugh.

The family will receive friends at 11:00 a.m., 2 hours prior to service on Monday, September 11, 2017 at Wise Funeral Home.

An online guestbook is available at www.wisefuneralhome.com.