Lifestyles
Red River Rose Society to meet Sept. 19
Sep 18, 2017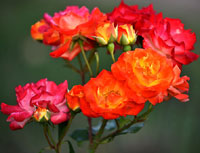 Sherman -- The Red River Rose Society will meet Tuesday, September 19, 2017, following their summer break. The evening begins at 5:00 p.m. with a Dutch treat meal at La Mesa Mexican Restaurante in Sherman. Following dinner, we will drive to the United Way Building on East Brockett Street in Sherman for the 6:30 p.m. meeting.

Program speaker will be Jeremiah Davis, as he speaks about "The Plants of New Zealand." Jeremiah and his wife, Mary, travelled to New Zealand last fall so he could attend the International Arborist Society meeting in Auckland, New Zealand.

Jeremiah developed a love of horticulture as a child as he helped his parents in their organic gardens. He became certified as a Grayson County Master Gardener and then went on to attain an Associate Degree in Horticulture. He then obtained the following certifications: Certified Horticulturist, Board Certified Master Arborist with Tree Assessment Qualification, and Texas Master Certified Nursery Professional. He is currently employed as the Nursery Department Manager at Calloway's Nursery on Hwy 121 in Plano. He and Mary bought a home in Windom, where he is creating a berry garden, with blueberries, blackberries and raspberries.

Join us at the meeting to see Jeremiah's slideshow of the plants he encountered on his trip to New Zealand, which will include pictures from Hobbit Land.