Local News
Fannin Central Appraisal District Board of Directors is seeking Appraisal Review Board
Sep 24, 2017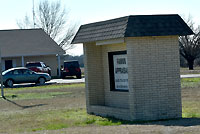 Fannin County, Texas -- The Fannin Central Appraisal District Board of Directors is seeking Appraisal Review Board (ARB) members from qualified property owners of Fannin County for the upcoming 2018-2019 term. The ARB serves a vital role in ensuring the property owners of Fannin County have an impartial citizen panel to hear their property value disputes.

If you are interested in serving on the ARB, please visit the appraisal districtís website www.fannincad.org, the districtís office or your taxing unitís administrative offices to review the selection policy, qualification criteria and complete an applicant questionnaire.

Interested persons must complete the questionnaire and submit it before October 13, 2017 for consideration.

Mail completed questionnaires to Fannin Central Appraisal District, Attn: Board of Directors 831 W. State Hwy. 56 Bonham, TX 75418.