Front Page
Kevin Couch launches campaign for Texas State Representative District 62
Sep 14, 2017
Sherman, Texas -- Kevin Couch, Sherman City Councilmember, announces his campaign for State Representative of House District 62.
"I have worked tirelessly during my term to help implement conservative reform on the Sherman City Council," said Couch. "I see now, more than ever, the need for a strong conservative outsider fighting for the people of House District 62. Voters want results and the career politicians in Austin have failed to deliver."
A Texoma native, Kevin Couch has worked, lived and served in House District 62 nearly all his life. His experience as founder and CEO of CBC Creative, a Sherman-based marketing agency, has exposed him to the necessity for conservative reforms that end burdensome regulations on businesses and grow the free market economy.
"We need an outsider, business leader, and entrepreneur to shake up Austin," said Couch. "We need a representative that knows how to create jobs, fight for lower taxes, and find real solutions to illegal immigration and government overreach. I am prepared to take this fight for conservative change to Austin as the representative of House District 62."
During his service on Sherman City Council, Kevin fought for conservative ordinances that boosted economic prosperity and free market principles. He led the charge to repeal the city's job tax, took a stand against higher property taxes and new fees, and created a probusiness environment to revitalize Sherman's downtown.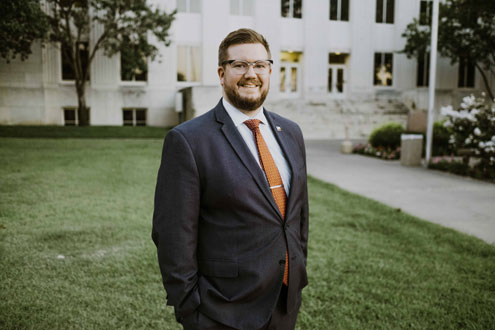 Kevin is committed, as he has been his entire life, to championing conservative values. As a Texas Representative, Kevin will fight for lower taxes, securing the Texas border, and limited government.
Website: couchfortexas.com/about-kevin