Obituaries
Bernice Moore
Sep 13, 2017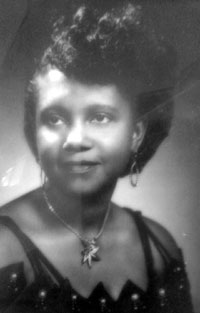 Bonham, Texas -- Funeral services for Esther "Bernice" Moore, 86, of Telephone, Texas will be held on Friday, September 15, 2017 at 1:00 p.m. at Wise Funeral Home Chapel in Bonham, Texas.

She was born September 13, 1930 in Honey Grove, Texas to Leonard and Zenova Shaw. She was the second oldest of seven children. She attended Fannin County schools growing up. She moved to Denver, Colorado to continue her education at Emily Griffith Opportunity School where she received her GED.

In December 1948, Bernice married the love of her life, James Moore. Within their union, they were blessed with six children. They also took in another child and raised him as their own, making them a family of nine. Bernice loved to read books, go fishing and do jigsaw puzzles. She enjoyed gardening, planting flowers and vegetables. She used to go to the farmers market to sell her vegetables, something she grew up doing with her parents.

Anyone who has met Bernice knows that no one was a stranger to her. She loved people, and would talk to anyone that crossed her path. You became an instant friend after meeting her. She touched so many hearts throughout her life. Many knew her for her loving spirit and sweet, gentle soul.

Bernice loved the Lord and gave her life to Him. She was a faithful servant to the Lord and did not mind telling anyone how good He had been to her. Bernice grew up in a Baptist Church, and later practiced as a Jehovah Witness. She later returned to her roots as a Baptist. She was a faithful member of the New Jerusalem Baptist Church, where she served as an adult Sunday School Teacher, a choir member and loved being the Mistress of Ceremony. On September 6, 2017, the sun set on Bernice and she went home to be with the Lord. She will truly be missed.

Preceding her death are her parents, Leonard and Zenova, her husband, James, her two brothers, Frank and Ernest, her two sisters Rella and Clara, and her son, Bobby.

Leaving to cherish her memories are her sister, Joyce; her brother Alonzo; her three sons, Clifford, Gary, and Calvin; her three daughters, Donita, Eyvonne, and Sharon; 21 grandchildren, 17 great-grandchildren, a host of nieces and nephews; and many relatives and friends.

The family will receive friends at 12:00 noon till service time on Friday, September 15, 2017 at Wise Funeral Home.

An online guestbook is available at www.wisefuneralhome.com.