School News
Fall enrollment at Southeastern increases 6%
Oct 7, 2017
DURANT, Okla. – Enrollment is up and so is the optimism around the Southeastern Oklahoma State University campus these days.
Prior to the beginning of fall classes on August 21, Southeastern president Sean Burrage had termed this as a "pivotal year at the University.'' The fourth-year president added that he was "optimistic'' as he evaluated both enrollment numbers and the financial condition of the institution.
And the results show that Burrage was on the mark: After three weeks of classes, Southeastern's enrollment has increased significantly in both head count and student credit hour (SCH) production over last year. (SCH is important as it plays a key role in the amount of state allocations Southeastern receives each fiscal year).
Southeastern's official fall 2017 enrollment is 3,956 students – an increase of 6.2% over last fall.
This represents the largest overall enrollment at Southeastern since 2012.
The University has also seen in increase of 3.2% in student credit hours this fall.
Burrage pointed to the importance of the across-the-board gains the University is experiencing this semester in new freshmen, transfers, and graduate student enrollment. In particular, the graduate school enrollment is growing at an amazing rate, with an increase of 62% over last fall (MBA – 132% increase).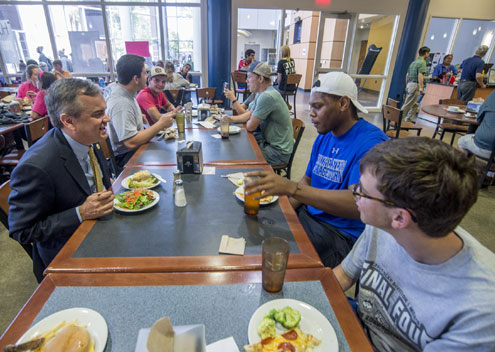 Increases of note over last fall include:
n New Freshmen: Increase of 2.3%
n Bryan County freshmen: 10.1%
n Texas freshmen: 6.7%
n Transfer students: 6.3%
n Graduate student enrollment: 62%
n Master of Business Administration (MBA): 132%
"As the numbers indicate, we have enrolled more students from Bryan County and north Texas this fall,'' Burrage said of the freshman class. "We believe this is the beginning of a positive trend as we continue to intensify our recruiting efforts across the region.''
Burrage said that online degree programs are greatly impacting colleges and universities across the nation, especially at the graduate level.
"In today's world of higher education, there is great demand for online learning opportunities,'' he said. "In fact, the growth in our graduate school, while phenomenal, can be attributed, in large part, to our innovative online master's degree programs in Business, Education, and Native American Leadership. Again, we expect this trend to continue as we explore the possibility of offering additional academic programs online.''
Burrage added there is a reason the online programs have been successful at Southeastern.
"Our faculty members deserve a lot of credit,'' he said. "They understand that the higher education model is changing and they are adapting. Even though the delivery format of instruction may be changing, the most important learning component remains the same -- the professor.''
These new online programs are complementing other traditional popular degrees in such areas as aviation, occupational safety & health, and the sciences, to name just a few.
And although he is pleased with the growth in enrollment, the Southeastern president is not satisfied.
"We still have a lot of work to do,'' he said. "Our challenge now is to not only sustain this growth, but to build on it. We have recently increased scholarship opportunities, but we must continue to do so in order for a college education to be affordable for all students. This is critical as we receive reduced funding from the state.''
Approximately 85% of Southeastern students currently receive some form of financial aid; 53% of Southeastern graduates this year were first-generation college graduates.
On the financial side of things, Burrage is equally optimistic.
Thanks to a number of measures – including ongoing conservative operational spending -- Southeastern's financial condition is in its best shape in years, with a sizeable increase in reserve funds projected this year.
This is despite numerous state budget reductions to higher education over the last few years, including a 6.1% cut ($930,000) to Southeastern this fiscal year.
"All the state reductions have obviously had a negative impact on higher education in Oklahoma,'' Burrage said. "But Southeastern has addressed these challenges over the past few years by making some tough decisions, such as consolidating/eliminating programs that didn't directly impact students, cutting administrative costs, implementing furlough days, and reducing travel expenses.
"Our faculty and staff have made tremendous sacrifices as we've worked through these budgeting challenges together. I can't say enough good things about the support they have demonstrated during some very difficult times. Southeastern is successful and will continue to be successful because of their attitude and willingness to do whatever it takes. That's what makes this such a special place.''
Southeastern submitted its Preliminary Enrollment Report to the Oklahoma State Regents for Higher Education on September 8.