Front Page
'Oysters and Champagne: Dining with Casanova' - a free special evening lecture at Kimbell Art Museum
Oct 12, 2017
Fort Worth -- Meredith Chilton, chief curator at the Gardiner Museum in Toronto,
will present a free lecture entitled "Oysters and Champagne: Dining with Casanova" on Friday, October 13, at 6:00 p.m., in the Piano Pavilion Auditorium. No reservations required.
If Giacomo Casanova lived today, he would describe himself as a foodie. He confessed to being "extravagantly fond of good food," a pleasure he considered secondary only to his love of women; the two passions were often intrinsically linked. During his life, a revolution took place in the gardens, kitchens and dining tables, as dining became at once more sophisticated and yet more simple. This lecture takes you on a gustatory journey from the elegant, intimate suppers organized by Casanova as a prelude to seduction to the austere table of Jean-Jacques Rousseau, who advocated a strikingly modern vegetarian diet. Along the way you will encounter rules for carving, new wares made of precious materials and Casanova's secret, carnal way of eating oysters.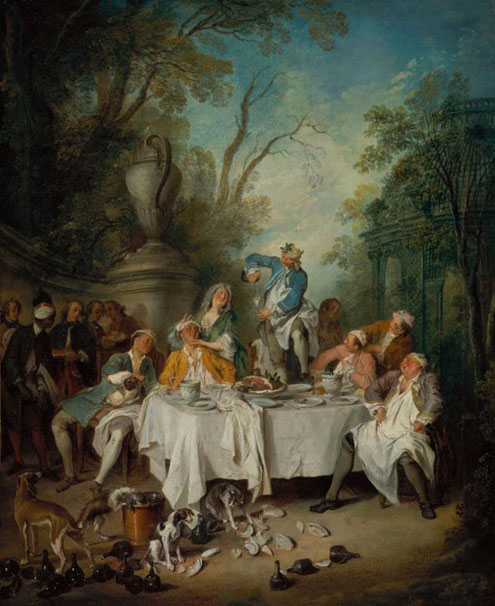 Nicolas Lancret, Luncheon Party in a Park, c. 1735. Oil on canvas. 21 1/4 x 18 1/8 in. (54.1 x 46 cm). Museum of Fine Arts, Boston
Educated at the University of East Anglia and Manchester University, Meredith Chilton is an expert in European ceramics and a specialist in dining, gastronomy, 18th-century social culture and theater history. In 1983, she became curator of the George R. Gardiner Museum of Ceramic Art in Toronto, for which she organized numerous exhibitions. Among her many publications is the award-winning Harlequin Unmasked: The Commedia dell'Arte and Porcelain Sculpture (Yale, 2001). In 2004, she left the Gardiner Museum to lead a five-year research project and produce a three-volume monograph: Fired by Passion, Vienna Baroque Porcelain of Claudius Innocentius Du Paquier for the Melinda and Paul Sullivan Foundation. The English edition was launched with an exhibition at the Metropolitan Museum of Art, New York, in 2009; the German edition at the Liechtenstein Palace Museum in Vienna. Chilton was the principal contributor to Daily Pleasures: French Ceramics from the MaryLou Boone Collection (Los Angeles County Museum of Art, 2012). She returned to the Gardiner Museum as Chief Curator in 2015, completing a major renovation of the porcelain galleries, and, in 2017, was appointed to the Order of Canada.
Kimbell Art Museum hours
: Tuesdays through Thursdays and Saturdays, 10 a.m.

--

5 p.m.; Fridays, noon

--

8 p.m.; Sundays, noon

--

5 p.m.; closed Mondays. For general information, call 817-332-8451. Website:
www.kimbellart.org
.
*Admission to the permanent collection is always FREE.